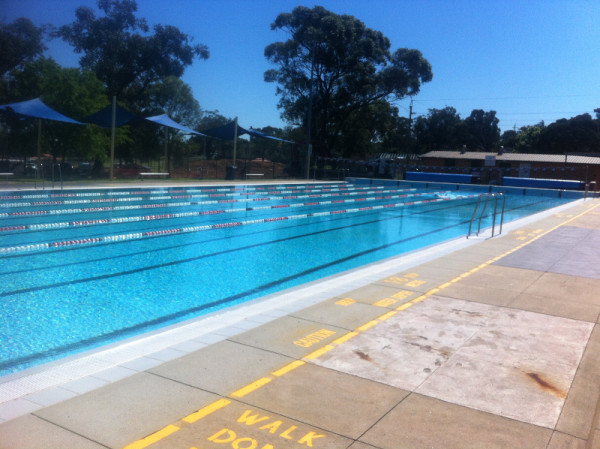 My experience in the pool
The outdoor Olympic Pool at Hawkesbury Oasis Aquatic Centre in South Windsor only opened for the season last weekend, so the guy in the changing room before I got into the water itself warned me it was a bit chilly, but at 25C it was more than enough for me and certainly warmer than my swim last week!
It was a perfect day for a swim, in bright sunshine but at that time of year when the sun still isn't at its burning height of intensity. And in this pool, you'd know when it's mid-summer because there's not a lot of shade in the water – in fact, no shade I would say.
There are three tall palm trees to look at if you do your backstroke looking south, but beware of trying to turn back and do a reverse length on your back, especially if it's a sunny day. The sun is blinding in that direction and it's funny how that can disorient me even in a clearly marked swimming lane.
If you can peer past the sun, you might get a glimpse of Royal Australian Air Force planes landing at the nearby Richmond Air Base. No speedy jets on the morning I was there, but some rather impressively large supply planes I think, coming in very low over Windsor.
The pool feels as if it has seen better days, though it may just be that it is about to see better days. To be fair to them, they are clearly in the middle of renovations of the changing areas so the showers, toilets and changing rooms were just in plastic portakabin type buildings out the back.
But I got the same impression from the trophy cabinet by the indoor pool. It felt as if the cleaner was asked to go in and dust, but they shoved the trophies aside without putting them back afterwards. Or maybe the cabinets used to be full and somebody ran off with the rest of them?
I had the same feeling around the Noticeboard of articles of past triumphs and pool record holders. I got the distinct impression the last person that cared much about these left in 2013 and nobody has bothered to update things since. Or maybe the local swim club just hasn't won much for the last three years?
If somebody swims regularly at this pool and can put me right, I'd love to hear it. It just seems a shame to me when pools let things slide and lose that pride in their past achievements, which can surely go to inspire the next generation of swimmers. But as I say, maybe I'm wrong and I missed a trick or two here.
This was also the first pool since Bomaderry many many moons ago that I was warned off taking photographs. I needed to sign some form or other at reception, but I've seen these types of forms before: they're all to do with the facilities covering themselves against potential risk, whether it's accident or some threat of paedophilia or the like. I was at a talk last night from a retired teacher who was bemoaning the fact that teachers can no longer 'risk' touching kids in their classes, even for a guiding hand or a comforting arm round them in times of distress. It's such a shame society has got to this point where people get so scared of doing things for fear of the consequences.
As I got out of the pool, one of the lifeguards began asking me questions about where I was from (this before they even heard my accent!). It reminded me of the Russian secret service guys who chatted with us as we left Russia by train two years ago virtually to the day. This lifeguard, though, didn't have their secret service act-natural skills and it just felt awkward.
Something about the atmosphere at this pool made me uneasy, and to cap it all, as I left the premises and crossed the road on foot (something not many do round here clearly), a tiny dog leapt clear of its garden fence and charged towards my heels looking to give me a warning nip in the calf. No real threat from such a tiny mutt, but kind of said it all about my morning at this pool in South Windsor.
Well at least I got my 20 laps in and the water felt good. I won't be hurrying back here, though.
Getting there, getting in, getting changed
I took the train to Windsor and then walked south, away from the Hawkesbury river, to South Windsor and the pool. It is about 15 minutes' walk from Windsor train station.
Nice shallow steps into the pool at the shallow end. Other than that, no dramas here or anything remarkable I recall.
Hard to comment on the changing rooms at Hawkesbury Aquatic Centre from the day of my visit. They were using temporary changing areas and showers, while the new complex is built within the main building.
Other practical points
$5.30 entrance fee
50m Olympic pool
Open September (check date each year) to March
History and stories of the pool
No stories found on this pool. Rather unforthcoming lifeguards and nobody particularly talkative once I'd lost sight of the cheerful chap in the changing rooms before I swam. Not a pool where I felt welcome.
What's your story? Any memories of swimming here? Any stories to tell? Or did you just have swimming lessons in days gone by?
Whatever you have to say, however brief, I'd love to hear from you and will add any stories to this section of the site as and when I receive them.  Add your comment or story under 'Leave a Reply' below.
Links to other articles on this pool
This is a difficult pool to search for on the net, with its name that doesn't quite match its position and no obvious indication of what the place used to be called. All I found was:
This rather technical article, which might interest if you're into engineering, pumps and how to save energy around outdoor pools.
Coffee, tea or milkshake after the swim?
The nearest shops are a ten minute walk away in South Windsor, where there was a friendly, family-run café serving up a decent cup of coffee
White Gum Café – 489 George Street, South Windsor, NSW 2756
Open Monday – Friday 6am-3.30pm, Saturday 7am – 2.30pm;
Closed Sundays