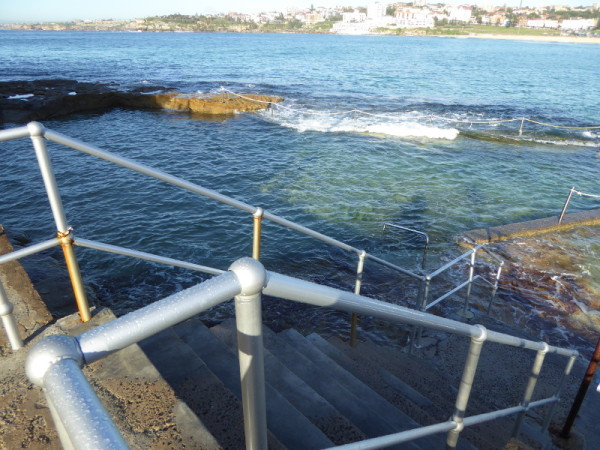 Named after a local boxer who was also a member of the North Bondi surf life savers
My experience in the rock pool
It took me three attempts to get into this pool, so it needs a bit of forward planning if you are going to North Bondi especially for a swim here…
The first time I tried the tide was high, the swell was big and the waves were crashing into the pool. I'd just been starting to have problems with my shoulder and decided it was safer not to take any risks by going in at this time, especially as it was also a cold, grey day.
The second attempt was two hours after low tide and the pool was so empty you could walk right across its sandy base to see the Wally Weekes plaque on the far side. You'd only get your feet wet if you chose to walk in the ankle deep water that remained at the western end of the pool.
So for my third visit, I turned up on a beautiful calm morning, an hour after high tide and found the pool in perfect condition, as full as it gets and with the waves just gently flowing over the pool edges.
I wore sea shoes to clamber down the rocks before grabbing the hand rail because the flow of water was quite strong and I wasn't too sure of how slippery it would be. In fact they probably weren't necessary.
It's not a pool to swim laps in, though; it's not really long enough (maybe 20m max) and it's not even very deep for the most part. But if you like a safe play with the waves or you need to cool off and don't want to fork out for entrance to the Bondi Icebergs at the other end of the beach, it's a nice option.
I had the pool to myself, though two others were in there after I returned from getting changed later.
Getting there, getting in, getting changed
This is right at the northern end of Bondi beach, tucked in under the cliff face.
Getting in is a matter of stepping over a rocky area before you get to the handrail and steps down to the water. Just be wary of the waves if they are coming into the pool at this point; there's no rip but they can swirl around a bit as they flow back.
No changing rooms here. If your towel technique is not too good or you have other reasons for needing privacy, you'll need to walk 200m back along the beach, past the North Bondi surf life savers to the toilet block. No changing room here but relative privacy.
Tidal differences
Don't bother at low tide. The pool is empty. And it takes quite a few hours to refill afterwards so check your tide times.
High tide itself can be quite dramatic if there is a strong swell, so you might need to check the wind too before travelling!
Other practical points
The children's pool is west of the rock pool. It's used by quite a few adults as a wading pool, and the waves can crash over the sides here too at high tide. The kiddies pool is much larger and properly tiled. Also closed for cleaning once a week for half a day.
There are four fresh water showers right by the pool.
History and stories of the pool
This pool was built by local residents in the 1900s.
Wally Weekes was a local swimmer, who also founded the North Bondi Surf Live Saving Club. He was clearly quite a character, as he is also said to have been a boxer, a publican and a shopkeeper. I've not seen any autobiography of him to know which of it is true, but the SLSC certainly claim his as one of their founders in 1906 and it's his name that the pool has taken in memory of the man.
People I met here include:
I only seemed to come across visiting tourists walking past the pool, most of them only in the area for a day or two. I'd love to hear from anyone who has used this pool in the past or still does on a regular basis…
What's your story? Any memories of swimming here? Any stories to tell? Or did you just have swimming lessons in the cold of winter in the 1960s?
Whatever you have to say, however brief, I'd love to hear from you and will add any stories to this section of the site as and when I receive them.  Add your comment or story under 'Leave a Reply' below.
Links to other articles on this pool
The Lazy Swimmer blogger incuded Wally Weekes Pool at the end of their blog post on the area from a visit in 2009.
Coffee, tea or milkshake after the swim?
There are a couple of cafés just above the pool. My favourite of these two is Bondi Rescue HQ, where they serve up a decent Campos coffee.
But I'd say it's worth going the extra climb (up about 20 steps to where the North Bondi bus terminal is) for…
Bru Coffee – 101 Brighton Boulevard (right by the bus terminal)
Open daily but closed by 1.30pm
Bru Coffee reviewed by Fancy a Cuppa website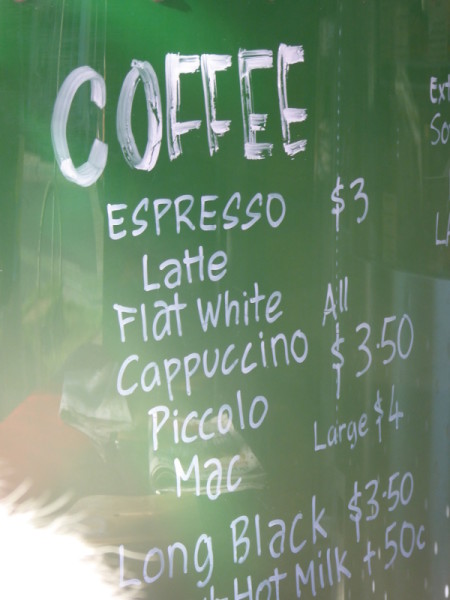 Good coffee from Allpress; espresso made on a lovely Marzocco machine. And cute little space with seating on a bench for a handful so usually people spill out onto the pavement and sit on the sleepers outside that mark the edge of the footpath.
Jo and Willy's Depot – 286 Campbell Parade (by the bus stops)
Open daily till 3pm
Jo & Willy's Depot reviewed by Fancy a Cuppa website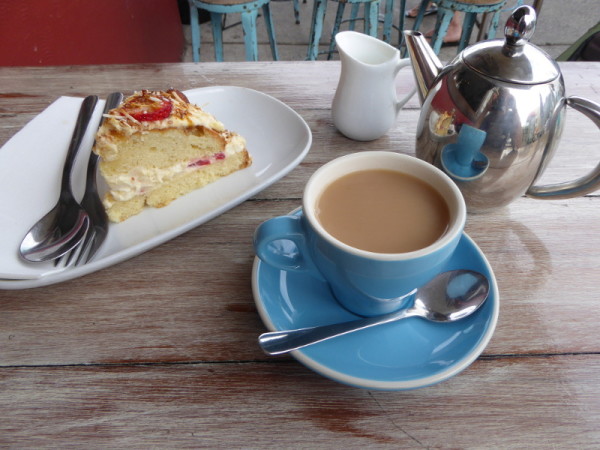 Directly across the road from Bru Coffee, this is much more a sit-in place, with lots of food on offer as well as great loose leaf tea, and coffee from Morgan roasters in Bathhurst. I had a fantastic pot of tea and cake straight out of the oven. Good choice if you like to take your time and people watch.