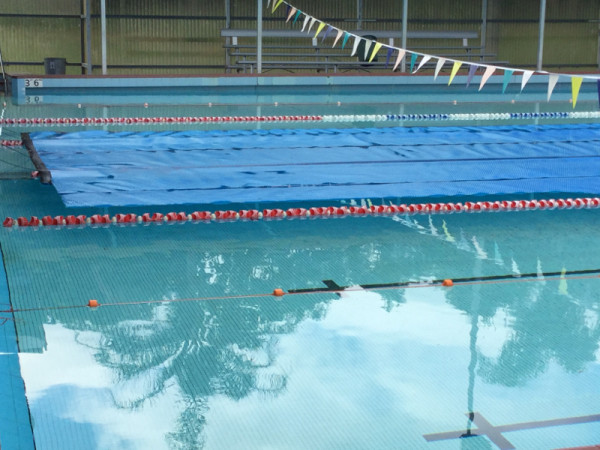 Named after the swimming coach and pool owner for 50+ years
My experience in the pool
I don't think Dick Caine's War Memorial Olympic Pool at Carss Park can have changed much in the last 40 years or more. Some might find the place tired and a bit frayed at the edges, but I liked it and the amateur social historian in me found it fascinating.
The first thing you see as you enter the complex is Elvis Presley. Dick, it seems, is a big fan and as with many followers of Elvis, it's all a bit OTT, with a life size model of the rock star on his guitar greeting you by the reception desk.
Then there is the gallery of past – and present – swimming stars who have trained here and been under the tuition of the man himself. There are lots of teenagers from the 1970s here, with those 70s teen looks ( well it's my era so I know the look ), but also a sprinkling of contemporaries from recent times, though it looks as though as many runners and triathletes train here as State swimming champs these days.
The Olympic Pool itself was empty, with the middle lanes still covered in winter economy mode. So I had it to myself for my full swim, which is always a luxury.
The guy I briefly met in the changing room warned me, though, that it was a bit brisk in the water and can't be more than 20C, 'but you'll be used to that', he added on hearing my accent.
After a winter of swimming in heated pools at 26C water temperature, I stepped rather gingerly into the unheated pool at Dick Caine's, and actually put my cold water ploy into practice by starting off on back stroke. 20C is fine, though, and I was soon in my stride, enjoying the workout as usual.
I love the palm trees that surround the pool in Carss Park. It actually means you get nice views even doing freestyle every time you come up for air, and on backstroke you can also see the tall gum tree that stands just outside the pool complex in Carss Bush Park.
Bush in Sydney means there will be birds, and Dick Caine's pool is the place to come if you like swimming with the birds: kookaburras in the trees overhead, swallows dipping into the water and coming perilously close as I swam my backstroke, cockatoos screeching as they do, and lorikeets looking as pretty as ever flying overhead.
I also like the fact that Dick has left in place the old pool depth tiles, showing 3′ 6″ at the shallow end and 6ft at the deep. Don't worry, those of you who worry about pool safety and keeping to the rules, he also has boards up showing the depth in metes, too…
It's easy to forget, in this era of heated swimming pools, that no outdoor pools were heated once upon a time (and I still have to go back to Enfield Pool soon when they reopen in October, though that too is unheated and the lifeguard the reckoned I should leave it a few weeks to let things warm up). The thing is, the guy I met in the changing rooms was right: 20C was fine for a Pom like me, but I had to wonder how cold the water gets in mid winter here and you need to be up at 5am to do squad training?
I also had a chance to do a reccie of the Carss Point Baths in the Georges River, just behind the Carss Park Pool. Nobody in the water there, yet, and you clearly need to be there at high tide or you'll be paddling quite far out to get a swim. Oh, and lots of oyster shells, so I'll be coming back here in my rock pool shoes.
No need for them at Dick Caine's War Memorial Olympic Pool, though, and I rather liked the quirky, olde worlde feel to the place. Thanks, Dick! Rock on!
Getting there, getting in, getting changed
I caught the bus from Hurstville. Very quick and easy to stroll over Carss Park to the pool. Lots of parking, though, if you come by car.
Nice shallow steps to get into this pool at the shallow end. I was intrigued by the start boards at the deep end, though, as they were raised well above the water level, so I couldn't do my usual touch of the edge before turning at the end of my laps.
You'll need a 20c coin if you want a warm shower. I didn't have any and just couldn't be bothered to go back to reception to get one, so cold shower was fine for me today! Slightly weird that the last two cold shower spouts are also blocked off in the gents changing rooms, so I guess also a sign of times not being what they once were – or just that everyone wants a hot shower nowadays!
Other practical points
$6.50 entrance fee
50m pool open all year round (but I'm not sure it's heated…)
Kids' paddling pool under shade next to the Olympic Pool.
Nice gardens and lawn area with picnic tables making this a lovely spot in summer, I'm sure
1.3m shallow to 1.9m deep or 3'6″ to 6′ according to those old tiles in the pool.
History and stories of the pool
There's lots of history in the photos around the walls. I have to admit no swimmers I recognised, but then as a Pom, we probably didn't get blanket coverage of every Aussie swimming medal winner, unless they were world famous like Dawn Fraser, Shane Gould or Ian Thorpe.
Other than that, I didn't find any real stories about this pool's past – if anybody has any, please share with a comment.
People I met in the pool
Nice to chat with the lady at reception (possibly Dick's partner?) about how I once met Elvis's ex-girlfriend from his teenage years…but that's another story…
Apart from that there was just the brief exchange with the gent who had just come out of the water.
What's your story? Any memories of swimming here? Any stories to tell? Or did you just have swimming lessons in days gone by?
Whatever you have to say, however brief, I'd love to hear from you and will add any stories to this section of the site as and when I receive them.  Add your comment or story under 'Leave a Reply' below.
Links to other articles on this pool
The local newspaper The Leader did a nice piece on Dick Caine himself, who has been teaching at this pool since he first leased it as a 20 year old. Extraordinary story in itself really.
Swimming blogger Sally came in 2006 and didn't have a great experience it seems.
The Gourmet Swimmers swimming blogger came in 2011 but never got beyond their second swim before the blog finished!
Coffee, tea or milkshake after the swim?
It's a ten minute walk up towards the Carss Park shops on the Princes Highway.
Kizmet Café – 11 Carwar Street, Carss Park, NSW 2221
Open Monday – Saturday 7am – 4pm;
Closed Sundays
Kizmet Café reviewed by the Fancy a Cuppa website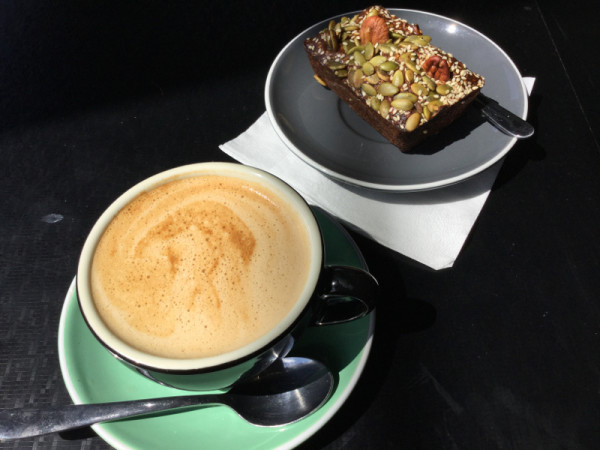 You can have a genuine Turkish coffee here and know it will be made in the Turkish way because one of the owners is Turkish. I enjoyed a chat with her about our favourite spots in Turkey from our journey through the country two years ago, but I opted for the Aussie style flat white – somehow Turkish coffee has to be drunk in Turkey, doesn't it?
Roasted by Numero Uno coffee, this was a decent enough brew for me to order a second and the barista knew all about the origin and roast: Papua New Guinea, so that is a good sign I think.
Really friendly neighbourhood café, though. Virtually every other customer who walked past me while I sat and watched the world go round said hello. Not often you find that in Sydney coffee shops.
And they do my favourite fig and date bars made by Luxe bakeries in Newtown. Boy they are god cakes, and perfect for that post swim coffee energy boost.
Nice place!