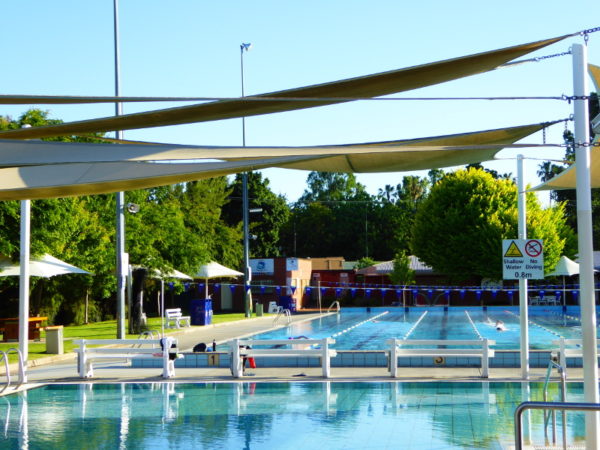 Wikipedia reckons Albury was named after a village in Kent, but there is only an Albury near Guildford in Surrey!
My experience in the pool
Albury Swim Centre had a lucky escape in October 2016, just a month earlier than my own visit to the place. It sits right by the Murray River on the NSW/Victoria border and floodwaters crept perilously close to the centre when the river burst its banks a few weeks ago (see the link to the video looking over the area and see the pool sitting just above the floods at the time).
As we walked up the path to the pool, we could see how that slight incline saved the place from being inundated last month.
Funnily enough, the Albury Swim Centre is facing a longer term survival issue too, as plans are afoot to revamp the area's swimming facilities. More of the links below show how that local debate is moving forward, and it currently looks as though the Albury outdoor pool will survive, though others in the area may not be so lucky. The guy I spoke to after my swim filled me in on some of the ideas floating around (no pun intended) – more details again under the People I Met section below.
On a sunny Saturday morning in late November, Albury Swim Centre was buzzing, with swimmers in every lane and a good crowd greeting each other cheerily, suggesting many of them are regulars at the pool. The lifeguard told us it was a fairly quiet morning, mind, so outdoor swimming is popular indeed in this inland city that seems to live on sporting activity (massive grass court tennis complex up the road, cricket match being played at 8.30am, a rather impressive football oval, and a pretty well-attended Fun Run just starting near the pool as we emerged after our swim).
The pool itself is lovely. It's a 50m Olympic pool set in beautiful parkland by the Murray, with great trees to look at as you do your backstroke; a 25m wading pool where some were doing laps too; a water slide that today was inaccessible as they are replacing the stairway up to it, but the lifeguard hopes will be back up and running by the holidays; and a little shallow toddlers paddling area at just 10cm depth.
It's a great feeling on a fine late spring morning to have done my 20 laps and be ready for a coffee and a bit of breakfast afterwards. And in Albury, it truly felt like the kind of place where the active ageing community are in their element; I just dipped my toe in their water for a little while and enjoyed the positive energy.
Getting there, getting in, getting changed
There are trains to Albury on the main line from Sydney to Melbourne. We used Albury as our stop-off point on the road, though, and stayed in a motel just over the road from the pool.
Nothing special about the ways in to the water.
Spacious changing rooms with warm water showers
Other practical points
Pool depth from 1.1m in the shallow to 1.8m in the deep (they said, but I couldn't reach the bottom with my toes without going under so I fancy it may be a bit deeper, actually)
$5 entrance fee
Not open all year. Swimming season in Albury is September to April inclusive.
History and stories of the pool
See the section below. I found no formal history of Albury pool, but the guy I chatted with after my swim gave me the best potted history I have had…
People I met in the pool
I didn't get his name, but I had a good old chat to a local gent in the changing rooms after my swim. He spoke of the campaign to get a roof over the pool in Albury. And when I seemed horrified at the idea of it becoming an indoor pool, he explained that no, the locals are after a roof that can just cover the pool in bad weather so that it can stay open all year. He said there is an indoor/outdoor pool like this in Canberra (which I must check out some time soon), so the technology exists, and it sounds the perfect solution to guarantee continued outdoor swimming, but also make it kind of indoors for bad weather/winter swimming.
The same gent also explained the Albury Olympic Pool was originally built about 40 years ago and the entrance then was at the other end of the pool (for some reason he didn't know). He also told me of the accident that had caused the waterslide to be closed for some time, though it had been the first incident in 15 years of operation.
He was also a keen river swimmer and spoke enthusiastically of different spots on the Murray (and other waterways nearby, I think), where he still likes to get into the freshwater and swim.
He just served to reinforce my impression of Albury as a really active, sporty place. A good old traditional Aussie town, it sounds like. Maybe we should have moved there, even if it is miles from the ocean…
What's your story? Any memories of swimming here? Any stories to tell? Or did you just have swimming lessons in days gone by?
Whatever you have to say, however brief, I'd love to hear from you and will add any stories to this section of the site as and when I receive them.  Add your comment or story under 'Leave a Reply' below.
Links to other articles on this pool
First link is a plug for the January 2018 Australian Deaf Games, with the aquatic events being held at Albury Swim Centre.
Swimming blogger Sally had a guest post on her blog in 2011, with some good photos of Albury Swim Centre.
This You Tube clip shows the floods that almost inundated the swimming centre in Albury in 2016.
The local newspaper the Border Mail outlined the debate over future swimming facilities in the area in 2016.
This article from September 2016 showed the Albury swim centre likely to survive but two options still open for the future of swimming in the area.
Coffee, tea or milkshake after the swim?
It's only a ten minute walk up the road to get to my favourite place for coffee in Albury.
The Barista, Baker & Brewer, 358 Wodonga Place, Albury, NSW 2640
Open Daily: 6am – 5pm Mon – Friday; 7am – 4pm Saturday; 8am – 4pm Sunday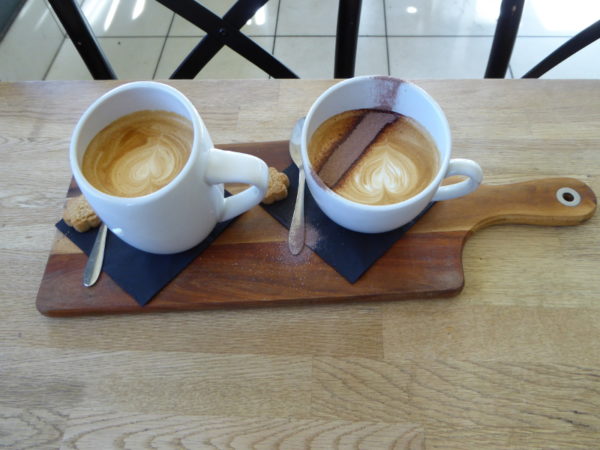 We were lucky to meet the roaster himself from this coffee shop's in-house White Owl coffee (and when you meet Harry, you'll see why he called it White Owl). They roast on-site, bake the cakes (and other food) here too, and have all the roasting equipment and coffee bags on display around the coffee shop. I don't normally go for savouries with my post swim coffee, but Harry's parents have been baking sour dough in Albury for decades, so you might want to try their bread too.
A real plus for this coffee shop, apart from being near the Albury Swim Centre, is the fantastic grass court tennis facilities right next door, and visible from our table as we sipped our coffee. Apparently named after local lass Margaret Court, these 25 superb grass courts almost made me want to take up tennis again (though it was only after a back injury 23 years ago that I gave the sport up and learned to swim properly instead…and without that, I wouldn't be doing this whole pool project…)