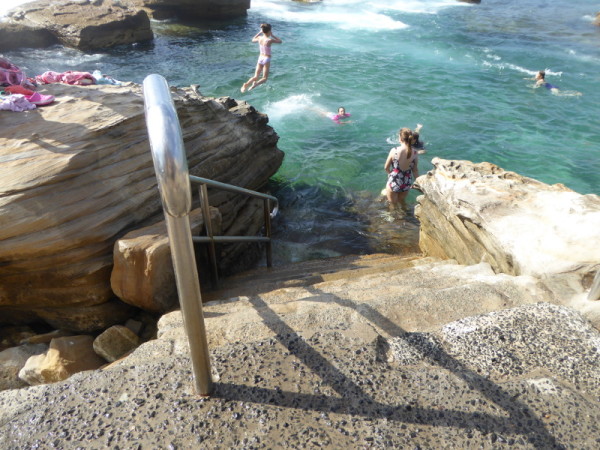 Named after a Mr Giles who owned the Hot Sea Baths here from 1929
My experience in the pool
It was a hot, humid morning when I turned up at Giles Baths, at the northern end of Coogee Beach in Sydney's eastern suburbs. A visit to Giles Baths is a great experience, from the moment you pass under the big archway with the word Baths engraved up high, and the poignant memorial to the locals who died in the Bali bombings 13 years ago now.
Walk through the arch and you see the water below. It was irresistible on this hot morning, and after spending five minutes watching the family of four kids jumping in from the high rock next to the pool, I was all set to take the plunge myself.
It's not actually the easiest pool to get into (or out of, as I was to discover later) so maybe those kids had the best idea, jumping straight into the water from the rocks.
It's an absolute delight once you're in the water, though. Beautifully clear, with waves constantly washing in to keep the water clear and keep you on your toes as the next wave arrives. Actually, when I did put my feet down, I found myself just about literally on my toes, so this is quite a deep pool, though I'm told the depth varies enormously on different tides.
I guess if you're a local and in the pool regularly, you'll know exactly where the pool ends, where the rough edges are, where to pause for a rest, and above all how to do laps, but for my first time, I was happy just messing about in the waves, taking a dozen or so strokes of freestyle and enjoying the cool freshness in that blazing sun.
This is a wonderful spot for a relatively safe swim, but with the excitement of waves rolling in. It was a few hours off high tide and a pretty calm day, though, so I can imagine you'd need your wits about you in a strong swell or gusty wind at high tide (as I was told by local Rebecca, whose advice is set out in more detail below).
It was thanks to Rebecca that I found my way out of the water at all, in fact. It's not that I was struggling, but each time I got close to the stone steps that lead to the water's edge, I either slipped on a rock below the water or was dragged back into the pool by the next wave. She pointed out the easiest way out (about 1.5m to the left of the steps, and try to walk on the white lichen rather than the darker covering of the stone).
Beautiful swim, though – this is a pool I definitely want to come back to, maybe on a different tide and in different conditions, just to compare.
Getting there, getting in, getting changed
There are lots of buses to Coogee from Bondi Junction and from Sydney CBD; most of them have their terminus at the northern end of the beach so they'll drop you off not far from Giles Baths, and then you can see the Baths archway from the bus stop anyway so it's an easy walk through the small park.
There are steps down to the water but it's not that easy to walk in. Best bet is either to jump or have a shallow dive off the last step. Or just splash in backwards as is my method. And getting out was even more of a challenge, as I explained above.
No shower or changing area directly by the pool. The nearest shower is back along that path through the park and down a couple of steps towards the beach. The portakabin style toilets in the park (about 200m from the pool) are the only place where you can change in private, though they are not designed as changing rooms as such.
Tidal differences
Big tidal differences, apparently. I was there some three hours after high tide and conditions were perfect. It is possible to swim in any tide, though conditions get trickier in a big high tide and with strong swell.
History and stories of the pool
Giles Baths have been through so many different stages of their history since the area became popular as a bogey hole back in the 1850s. They weren't even called Giles Baths in those days. In fact, once the pool was more formally built with walls and a clear swimming area at the start of the 20th century, the spot was actually owned by a guy called Lloyd, so they were known as Lloyd's Baths for a while, and I loved the top rule of the day then: No Swearing (ah, they had a funny sense of propriety back in those days – I mean, who swears at the swimming pool anyway?).
By 1929 the place had been bought by a Mr Giles, and he established his Giles Hot Sea Baths and massage centre here – only men were allowed in the rockpool at that time (I guess to mirror the Ladies' pool at McIvers, across the bay at Coogee). It actually became a bit of a gay hangout around this time, although it was a dangerous thing to be openly gay in those days, bearing in mind that homosexuality was only legalised in NSW in 1984 (!).
Jockeys from nearby Randwick used to come here also as part of their efforts to keep low weights for riding.
In the 1970s, 90% of users were men; by 1993 that had fallen to 75%. In 1998 the gym closed down and was demolished in 2000, so allowing general public access to the baths below where the gym building used to stand. So Giles Baths as a public pool for all to use is a relatively recent phenomenon. Some of the original walls still remain on both ocean side and under the cliff, but the baths are quite exposed to ocean waves now – that makes it fun to swim in (and dangerous at times), but also must make the place vulnerable to further wear & tear. I do hope there will always be funds to keep the baths open and accessible – it is one of the loveliest swimming spots I have experienced on this ocean pools tour so far.
People I met here included
Both the locals I spoke to were concerned about crowds of newcomers discovering Giles Baths because of this blog (I wish my audience was big enough to cause such a new wave of swimming enthusiasts).
Rebecca comes here every day and her Mum the same before that. She can remember the days when there was a men-only gym on the cliff above the baths and women could not swim here. Her Mum even remembers when the pier was still in place on Coogee Beach, and can remember going to dances at the end of the pier in the 1930s: fantastic.
Rebecca talked of the dangers of the water in the pool at high tide in a strong swell, not for rips but for currents and the force of the waves making it hard to make your way back to the steps if you don't know the water well (the other local I spoke to says on the contrary this is the most exciting time to be in the water, and there are great spots to hide under the cliff space to shelter from the biggest waves).
Rebecca talked of the waves coming up to the level of the concrete above the pool in a strong swell and tide, and coming half way up the steps even on a normal high.
She loves the place, though. She was later in the water than normal so that she could avoid that high tide of three hours earlier, but says there are days when she is the only person in the pool early in the morning. No wonder people like that fear throngs of outsiders invading, but I don't think it will happen, and I'm sure she can enjoy solo swims for years to come…
What's your story? Any memories of swimming here? Any stories to tell? Or did you just have swimming lessons in days gone by?
Whatever you have to say, however brief, I'd love to hear from you and will add any stories to this section of the site as and when I receive them.  Add your comment or story under 'Leave a Reply' below.
Links to other articles on this pool
This Sydney blogger came on a very calm day in July 2014
Swimming blogger I'd Swim That also came in 2014 but this blog shows just how low the water can get at low tide
This snorkelling blogger was more interested in the wildlife underwater than the baths as a swimming spot, but this is another blog showing how shallow the water gets here at low tide
Coffee, tea or milkshake after the swim?
It's just a five minute stroll to the café I liked best near Giles Baths
Morning Glory Café – Beach Street, NSW 2034
Open daily 7am – 4pm (closes a bit earlier on wet days and in winter)
Morning Glory Café reviewed by Fancy a Cuppa website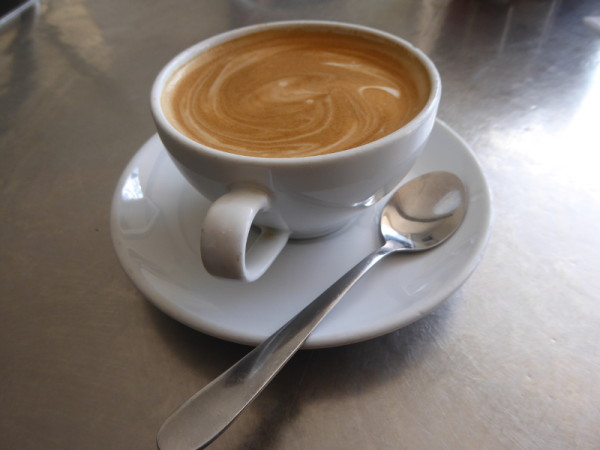 You can see the beach end of Giles Baths from the Morning Glory Café on Beach Street. I liked this place, not just for its rather good, smooth coffee from Allpress (and they do the excellent loose leaf teas from Chamellia), but also for its local feel. Virtually all the customers are regulars and live locally, but there was no snobbishness about an outsider like me coming along for a cuppa and banana bread (there are also gluten free options). This was also where I got talking to another regular swimmer from Giles Baths, and together we encouraged the friendly café owner to get back into the water, as she hadn't for ages, she said.
Pick your seat well and you can choose views of Giles Baths or views via the big mirror of the rest of Coogee Beach. Very nice spot.