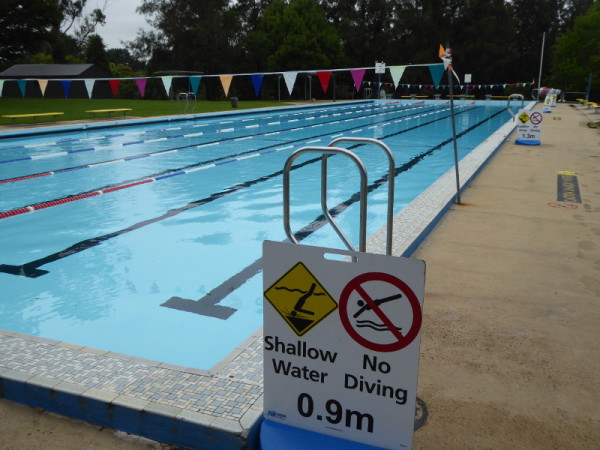 Don Bradman's childhood home but he was 63 by the time this pool was opened
My experience in the pool
It was a cool, cloudy Sunday at the end of the summer holidays when we pitched up at Bowral's lovely swimming centre. I couldn't help remembering that in country South Australia, they wouldn't even open an outdoor pool like this on a day when the air temperature is only 19C, but they're a hardier lot in New South Wales.
This is a lovely swimming complex, with a 50m Olympic Pool, half laned off and half left for leisure swimmers; a 25m pool which was totally empty when we got there; and smaller covered kiddies' pools, but again nobody using those, as there really was a heavy cloud cover overhead.
In the Olympic Pool, all the lanes were taken by people doing leisurely laps, so rather than disturb their calm by sharing one of the lanes, I opted for the empty leisure half of the pool and swam along the last of the lane ropes.
It was good to stretch out and work those muscles after what had been basically a 4 week lay-off from serious lap swimming. With no wind and no sun, it was a very tranquil time, though the experience therefore missed the Wow factor I often feel when I get back into the water after a long break.
I do like Bowral's swimming centre, though. It's surrounded by greenery; it even has an avenue of trees running from the changing rooms alongside the 25m pool towards the Olympic pool. And it has none of the swish pretensions of more modern aquatic centres or those older pools that play on their illustrious past like Granville or North Sydney. But these are great facilities for what is really quite a small country town in the Southern Highlands.
Getting there, getting in, getting changed
There are trains to Bowral from Sydney taking a couple of hours on the Southern Highlands line. We drove up from Kiama, and there's ample parking out the front of the swimming pool.
Vertical steps only into the Olympic Pool (I forgot to test the accessibility of the 25m pool).
It took me a while to work out how the showers operated. Without my glasses, I'm pretty blind, so I walked straight past the sign telling me to turn the old water handle and then press the button for a shower. Actually, that must be an old sign because there are no longer any water taps in the individual showers so all you have to do is press the button on the wall outside the shower area. They're great showers (warm) once you work them out, but if you don't press the button outside the shower area, you won't be getting any water…
Other practical points
$4 entry in 2016
Four pools in one swimming complex: 50m Olympic; 25m; paddling pool; and mini paddling pool.
Open five months of the year only: from 10 October 2015 – 6 March 2016, for example.
Open daily but later opening (9.30am) on Sundays.
History and stories of the pool
Bowral Swimming Centre opened its doors for the first time in 1971. Before that, the nearest place for a swim was in Mittagong. But the link below from the local newspaper tells the story of what locals used to do for a dip in Bowral in earlier times. There were a couple of local ponds and creeks where people would swim on hot days from the 1800s, though some of these became too polluted as industry grew in the mid 20th century.
There were discussions about building a pool in Bowral from as early as the late 1920s, according to the article, but agreement on a site was only reached in the 1960s, with the swimming centre we know today only opening in 1971. They had afternoon tea for everyone who attended that opening: just five years to plan it, but let's hope Wingecarribee Council have ideas to run a 50th anniversary afternoon tea in 2021. I'd be back if they did…ording to the article, but agreement
People I met in the pool
I had a cheery smile from one of the regulars in the men's changing rooms who was amused at my inability to get the showers working. But apart from that, my only chat was with lifeguard James, from whom I learnt that the Wingecarribee Council lifeguards rotate between the council's three pom I learnt that the Wingecarribee Council lifeguards rotate between the council' that, nmy only chat wasols, and they all have their favourite: James likes Mittagong best for its stunning setting. Well, Bowral's setting is pretty nice, so I can't wait now to visit Mittagong.
What's your story? Any memories of swimming here? Any stories to tell? Or did you just have swimming lessons in days gone by?
Whatever you have to say, however brief, I'd love to hear from you and will add any stories to this section of the site as and when I receive them.  Add your comment or story under 'Leave a Reply' below.
Links to other articles on this pool
The Southern Highland News ran a story about the history of Bowral Pool in 2014. It's a good read.
Coffee, tea or milkshake after the swim?
There is a poolside café, but it looked like it was more for snacks than real coffee lovers, so head back into Bowral itself for the best coffee in the area
Rush Roasting – Grand Arcade, Bong Bong Street, Bowral, NSW
Open Monday – Saturday 7am – 4pm (slightly shorter hours on Saturday)
Closed Sundays, which was a big disappointment for our post swim coffee this time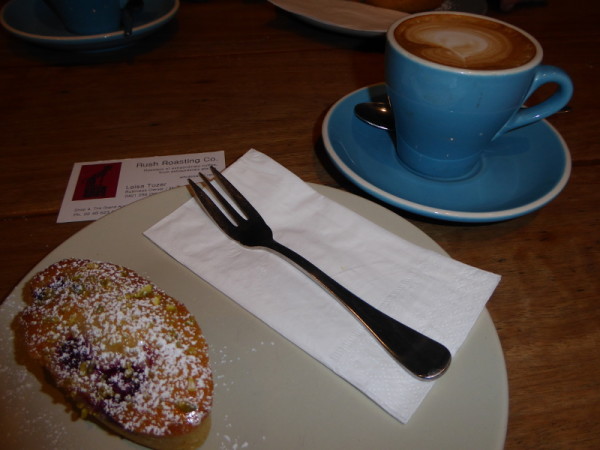 I'll do a fuller review when I've been back to Rush Roasting. I popped in with friends when in Bowral some months ago so I know how good their coffee is, and they roast it themselves, which is usually a good sign. But I was off duty that day and it was closed on the day of our swim in Bowral, so I'll need to revisit to have a good look at their coffees and cakes! Best coffee in Bowral, though, I think.