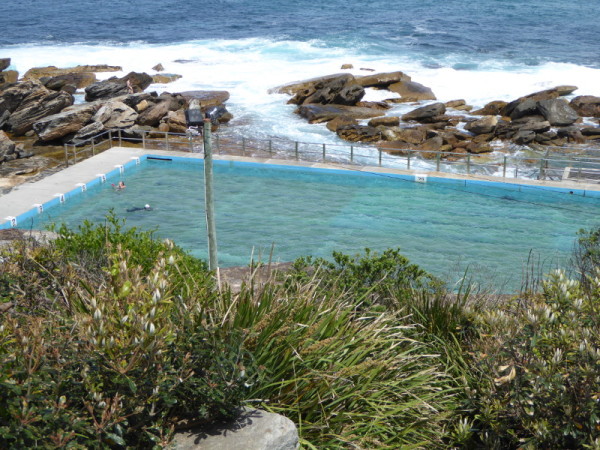 In 1925, Freshwater rock pool became the first ocean pool on Sydney's northern beaches.
My experience in the pool
Freshwater Rock Pool is a perfectly-positioned 50m Olympic Pool, with lane markings on the floor. It sits right under the cliff on one side at the northern end of Freshwater Beach, but unlike neighbouring Queenscliff, this doesn't prevent the sun from warming the pool up pretty quickly in the morning because the cliff isn't so high here. Its position also leaves you looking out at the surf crashing in on Freshwater Beach and the rocks on all the other three sides.
There's not much difference in depth at either end (I'd guess around 1.6m, with perhaps a big toe's difference at the ocean end).  There was beautiful water quality and temperature for my visit on a warm spring day at the end of October.
The lane etiquette, I was told, is to swim over the black lane markings, and there were exactly eight swimmers in the pool when I arrived mid-morning on a Friday. By the time I got into the water, though, I had the black line under lanes 3-4 to myself and off I went, delighting as usual in the cool waters, the sea air and dazzling light.
This is an absolutely delightful pool, and I'm amazed that I had never made it here before on my various visits to Australia over the years. It's clearly a popular pool, though, and reminded me in its business of Wollongong's Continental Baths.
Getting there, getting in, getting changed
If you're in Freshwater already, easiest access is via the beach and the pool is at the northern end under the cliff. At high tide you may need to take off any footwear  to keep dry, and in any case it is a bit of a scramble over rocks so don't try to bring a pushchair that way. Access also via the road the leads to South Curl Curl. Bus 139 takes you closest. Car park by the pool but ticketed at $5 an hour.
A ramp takes you down to the water at the slightly deeper end (ocean end of the pool), but there are steps in also at the shallower end.
There's a shower in the open under the cliff by the pool, but no changing rooms open to the public. The building just above the pool is the Freshwater Amateur Swimming Club building and only the toilets are open to all – still, it's an option if you prefer that to the old towelling technique.
Tidal differences
I was in the pool not far off high tide, and there were no waves crashing over the pool walls, so this is a good pool for proper lap swimming whether low or high tide. It probably gets a bit interesting in a storm, but the sun was shining for my visit so I haven't seen it rough here yet.
Other practical points
Not many places to leave your belongings. I chose a shaded bit behind the poolside paving, as it was protected from the wind and I wasn't too sure how I'd have reacted if my things had been blown towards the pool or the surf from some of the more exposed spots…
History and stories of the pool
Somewhere on the headland at Freshwater there is a sculpture of Duke Kahanamoku, the Hawaiian surfing champion who visited these shores in 1914, while unable to compete due to an injured shoulder. Given my own ongoing shoulder issues, I feel an affinity with this guy and was very disappointed not to find the sculpture (anyone know where it is exactly??).
Read the links below for the full story (of which there are various versions), but basically Duke came along and showed the Aussies how to surf. He did one display at Freshwater Beach, and subsequently went to nearby Dee Why, where he rode tandem on the surfboard with a local 15 year old girl called Isabel Letham. She subsequently became a surfing competitor herself and, after living in California for a while, came back to Freshwater rock pool in the 1940s and introduced synchronised swimming to the locals, in this very pool. Not many synchronised swimmers there these days (and sadly Ms Letham passed away in 1995), but nice to imagine all this going on in this wonderful spot.
Best link for history of the pool, especially its connection to that Hawaiian Duke is on Outrigger's website.
Beach Bottle found the sculpture I was looking for.
People I met here included
Fiona, who not only helped me out by pointing the way to the toilets (above the pool, up the steps), but also explained the lane etiquette to me before I plunged in and did something wrong. As we stood and discussed the wonders of Freshwater, with about 8 swimmers ploughing up and down the laps, Fiona reckoned this was not a busy time of the day or week and that at weekends, it can be so busy that people are criss-crossing the pool, with many resorting to widths because there are so many people at either end of the pool.
What's your story? Any memories of swimming here? Any stories to tell? Or did you just have swimming lessons in days gone by?
Whatever you have to say, however brief, I'd love to hear from you and will add any stories to this section of the site as and when I receive them.  Add your comment or story under 'Leave a Reply' below.
Links to other articles on this pool
Swimming with kids blogger Seana has been here more than once
Be careful not to copy poor old Lazy Swimmer blogger's unlucky choice of days to visit the pool in July 2015
Swimming blogger Sally came in 2013 and defied the 'closed' signs…
The pool gets a small mention in this Family Fun in Sydney blog from 2010.
Coffee, tea or milkshake after the swim?
It's a bit of a hike back to the shops in Freshwater itself, but worth it to get a quality coffee or tea in my view:
Cruise Espresso, Albert Street, Freshwater, NSW 2096
Open 5.30am – 2pm Daily
Cruise Espresso reviewed by Fancy a Cuppa website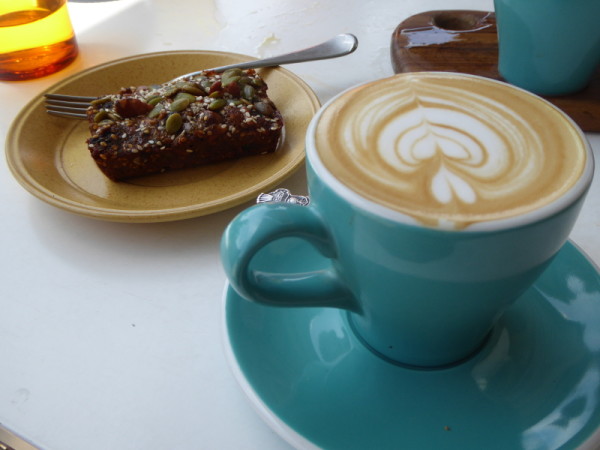 Hats off to the guys at Cruise Espresso, first for being very welcoming even though we pitched up 20 minutes before they were due to close and wanted lunch, coffee, cake, the works…But secondly for introducing me to the single origin Ethiopian from Byron Bay roaster Marvell Street. If their blends are anywhere near as good as that smooth, nutty single origin, it's a brand I'll be looking for again. Good selection of loose leaf teas too from the reliable Chamellia Teas range. And some nice sweet nibbles to go with your post swim coffee (or tea): a nutty flapjack type of thing was my choice and very good it was too. Want good coffee in Freshwater? This is my choice.
.