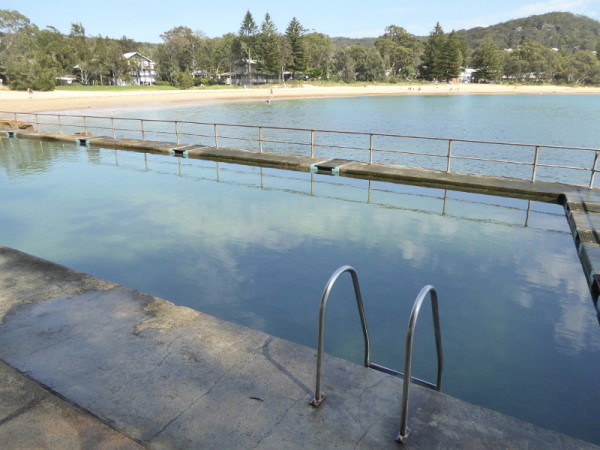 The first NSW Governor, Arthur Phillip, dropped by Pearl Beach in March 1788…
My experience in the pool
I was a bit troubled at first by the little group of 10 year old kids staring intently at the green slimy steps into this pool, and shouting eagerly: "There it goes." No, this was no bluebottle jellyfish or blue-ringed octopus; this was merely a sea slug, not that I really know what one of them is or does…
It did, however, make me regret not bringing my rock pool shoes (a gift I really welcome having down there when the bottom of a rock pool is a bit jagged or full of oyster shells). And sure enough, I was to regret that even more when I realised I'd cut my big toe nastily during my swim, presumably as I pushed off against the various barnacles and other shells clinging to the pool walls at either end.
Still, as I swam, I was totally unaware of that cut.
The pool is tucked into the southern end of Pearl Beach, with much of the cliff face blocking out the early morning sun, so if you like swimming in sunshine, try to get here mid-morning at the earliest.
This is a fabulous spot, though, with hardly any surf and presumably barely any rip on the beach itself. I guess the only reason for going in the pool rather than the ocean is to avoid any close encounters with sharks.
I'm guessing the pool was about 25m long, so good enough for laps, but not for an Olympian workout. The depth was a fairly consistent 1.6m or so and the water a good temperature.
The pool floor has a nice soft sandy covering, but at each end there is quite a lot of slimy seaweed growing, and obviously in among that, a few lethally sharp shells, so just beware of that as you push off to do laps.
So the pool may not have given me my best ever ocean pools experience, but Pearl Beach is definitely somewhere I'd love to come back to one day. And much less busy than neighbouring Umina Beach.
Getting there, getting in, getting changed
If you're on public transport, you can get the bus from Woy Woy to Pearl Beach, but there are only a handful a day so check the timetables. If you're really clever and live on Sydney's northern beaches, you can even link up with the Palm Beach to Ettalong ferry and join the bus to Pearly Beach there. Otherwise it's a windy road downhill to get to Pearl Beach, which is a few kilometres south of Woy Woy and Gosford.
There's a choice of metallic, vertical stairs at the deeper end of the pool or a rather slimy green set of steps at the shallow end (where a bunch of kids had just been inspecting a sea slug make its way across the top step). I held onto the railing so as not to slip belly first into the pool this way.
The only changing rooms are right across the beach in the toilets, about 200m from the pool. But that is your only option unless you have good towelling techniques and are happy to change poolside. There are benches by the side of the pool to leave your things while you swim.
Tidal differences
Not aware of tidal differences here. The tide was closer to low than high for my visit and there was no sign of waves coming over the pool wall. But if you know of any major differences at high tide, do let me know via the comments…
History and stories of the pool
Built in the 1920s by a local property developer as the pool was a major draw for new residents to the area when Pearl Beach was first being occupied by settlers.
The first white visitors to this beautifully peaceful bay, though, were back in 1788 and there are some interesting plaques on a stone just across the road from the café, with quotes from Captain Phillip and Lieutenant Bradley who led the ships into the bay in March of that year. I wonder what the 'natives' they spoke of then would make of the place now…
People I met here included
Anna, who comes down here most days for her morning swim. She moved to the area a few years ago and has a short 8kms drive down to the pool at Pearl Beach. She relishes every day and realises how lucky she is to have retired to such a beautiful part of the world.
What's your story? Any memories of swimming here? Any stories to tell? Or did you just have swimming lessons in days gone by?
Whatever you have to say, however brief, I'd love to hear from you and will add any stories to this section of the site as and when I receive them.  Add your comment or story under 'Leave a Reply' below.
Links to other articles on this pool
I liked this blog post from 2010 because it contains a picture of Pearl Beach Rock Pool when the blogger lived here as a small  boy in 1968. 
Pearl Beach Rock Pool comes up as one of the Aussie Backpacker blogger's top 5 ocean pools. I'm just not sure his photo is actually of the Pearl Beach Pool…
Coffee, tea or milkshake after the swim?
There's only one option for coffee or tea in the Pearl Beach area, but it's a good option:
Pearl Beach Café, 1 Pearl Parade, Pearl Beach, NSW
Open 9am – 2pm Monday – Friday; 8am – 3pm weekends
Pearl Beach Café reviewed by Fancy a Cuppa website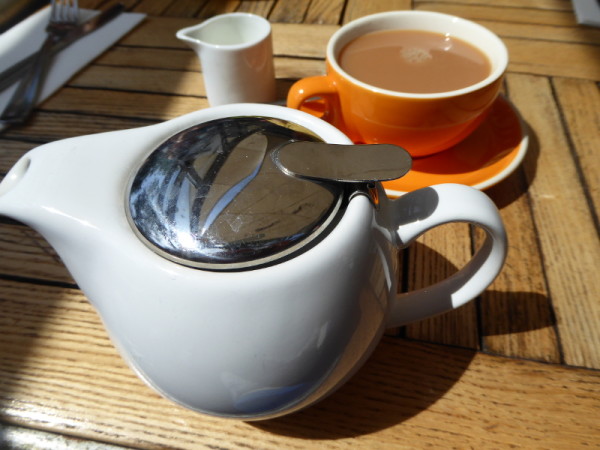 The only place in Pearl Beach for a post swim coffee or tea. I actually tried both and if I was going to go back, I would plump for the tea, funnily enough. This was a delicious, strong, tasty loose leaf tea from Teacraft. The coffee I had to follow up was OK but maybe lost its impact by being my second caffeine shot of the morning. This café stands right next to the beach in the building that used to house the old Post Office in the village. They get really busy at weekends and are serving up to 20 tables, so expect to wait a while on a Sunday morning, for example, but great views and nice to have half shade, half sun so we could people watch as we waited.
.