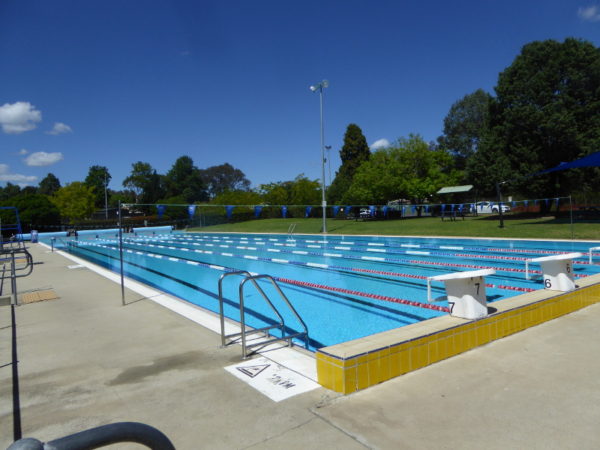 My experience in the pool
Picton's Olympic Pool has had a few names over the years, it seems. It's now known as Wollondilly Leisure Centre, which is probably appropriate as the pool complex (indoor and outdoor pools) sits about half way between Picton itself and the next village of Tahmoor. But hanging on the wall of the centre are photos of earlier versions of the pool, which looks as if it was basically built in the middle of a field, and seemed to be called Picton Baths or Picton Pool, though Picton War Memorial Pool seems to have been the official name of the one opened in 1969.
Shane Gould, the swimmer I am dying to meet one day as she is doing a PhD on swimming culture in Australia apparently, actually opened the refurbished swim centre in Picton in 2003. I'd like to have seen a pic of her on opening day, or better still a photo of her in her prime as an Olympic swimmer, but hey, I don't do the pool's PR, and I was impressed enough to see her name on the plaque by the entrance.
On a lovely sunny spring morning in November, I had the whole 50m pool to myself until right at the end of my laps, when one more gent got into the lane two down from me.
It's a really picturesque place. Not in a gum tree or bird life way some pools I have been to lately have been, but Picton Pool just feels Semi-rural and it's quite extraordinary that they even have such an impressive Olympic pool in such a small town.
The pool has a nice 2.1m depth from about half way, which is rare these days, and I'm guessing there may have been low diving boards once upon a time here. Still, I love that feeling of water stretching out below me as I swim out of my depth.
Picton Swim Club has a prominent clubhouse at the deep end, with times of the fastest in each age group for every distance at the pool. I love those kinds of lists, and marvel at how even at an amateur level, humans just seem to have got faster in the water, as the oldest record seemed to date from the summer of 1996-97. Are we fitter than our ancestors, or is it just that techniques have improved? Or something more banal like the fact that pools began to be heated around that time?
Having said I had the whole Olympic Pool to myself, I should add that the Leisure Centre was busy that morning, with a good number of (mostly) mums and toddlers doing something or other in the indoor pool. Nice that they have the option of choosing either in or outdoor at Picton. Always outdoor for me, but I can see the advantage of indoors for young 'uns wary of even getting in the water before they can swim, let alone having a bit of a cold shock to add to that fear.
Getting there, getting in, getting changed
There are trains to Picton from Sydney, and buses from nearby places like Camden, but the pool is actually some way from the centre of Picton, almost in the next town – Tahmoor.
Nothing remarkable about getting into or out of the water at Picton pool.
Good showers in spacious changing rooms which seemed to lead also to the indoor pool here.
Other practicalities
Pool closed for winter.
Entrance fee $5.50 in 2017-18.
50m Olympic Pool outdoors and smaller indoor pool.
History and stories about this pool
Local press clippings I found on the Trove website speak of a pool in Picton as early as 1934-5, with talk of its popularity leading to 4000 users in the first season and as many as 100 season ticket holders on top of that. The 1930s pool was built by volunteer labour, apparently, but it's not clear whether it was on the same site as the current leisure centre.
Fast forward to the 1950s and there was talk in the local paper of an Olympic pool that would 'put Picton on the map' – that almost certainly was on the same site as today's pool, and the leisure centre website has a photo which may well date from around this era on its home page, though the memorial plaque on the wall by the pool suggests it may have been well into the 1960s before the Olympic pool was opened.
The Picton Swimming Club website picks up the story from 1995, when the outdoor pool was heated for the first time. "making club competition more enjoyable for the entirety of the summer season".
In 2003, Shane Gould opened the newly refurbished – and renamed – Wollondilly Community Leisure Centre, with the indoor pool allowing the swim club year-round training.
What's your story? Any memories of swimming here? 
Any stories to tell? Or did you just have swimming lessons in days gone by?
Whatever you have to say, however brief, I'd love to hear from you and will add any stories to this section of the site as and when I receive them.  Add your comment or story under 'Leave a Reply' below.
Links to other articles on this pool
Possibly because of the changing name for Picton's pool, I didn't find any other contemporary articles or blogs on the pools here.
Coffee, tea or milkshake after the swim?
Someone I spoke to at the centre said there was a coffee shop somewhere near the Mitre 10 across the road, and you could get a coffee in the leisure centre kiosk, but I wanted to do my usual seeking out of a good coffee shop in the nearby township. I opted for Picton rather than Tahmoor, and came across a rather nice place in the Main Street …. there are apparently coffee shops of the same name and with same owner also in Camden and Mittagong.
R Coffee Company (RCC) – 150 Argyle St, Picton, NSW 2571
Open Daily: 6am-3pm Mon-Fri; 7am-2pm Sat; 8am-2pm Sun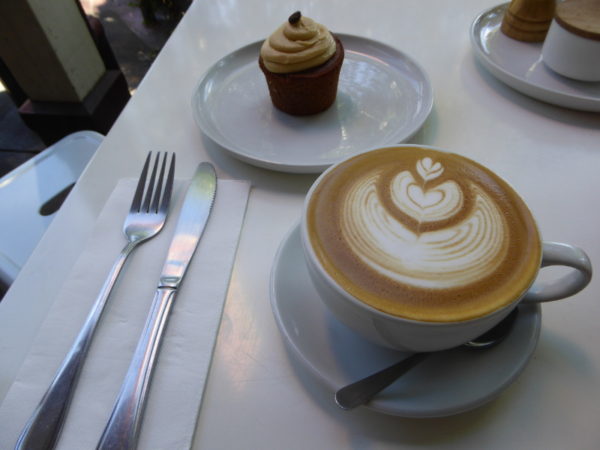 It bit more than my usual half hour max walk from the pool, but Picton is a nice little place to check out after your swim. They serve up a decent Campos coffee and it was nice to be able to eat some coffee cake with that. Double dosage of my post swim coffee.
Clean hipster feel, but friendly with it and very good coffee.