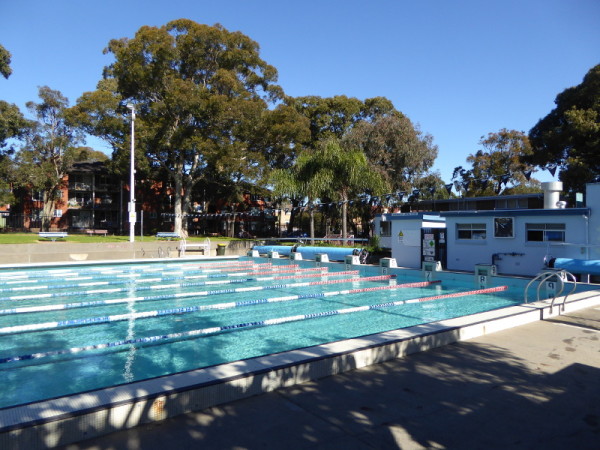 Its name is an Aboriginal word for a type of wallaby
My experience in the pool
Another bright, but cold winter's morning for this swim. The board at the entrance gate claimed the water temperature at 31C. Thankfully it was nowhere near that warm.
On a winter's day, even with full sunshine, this pool is half shaded and that makes a big difference when your back is going in and out of sunshine. At this time of year, with the air temperature nearer 10C than 20C, you welcome the warm on your back. But I imagine in summer that the sun climbs high enough to be fully exposing the pool except in the early morning.
It's the gum trees around the pool which give it its winter shade, but they also give it a wonderful setting. And with this pool facing more or less east-west, and the sun very much in the north, there was no blinding light as I switched to backstroke, as there had been at Engadine.
This is another 50m pool with 9 lanes, and when I got there at about 11am, only three were in use; an incredible state of affairs in the middle of school holidays – what's the matter with kids these days?
Still, it made for a pleasurable swim and lots of space for my wayward backstroke as well as freestyle.
Getting there, getting in, getting changed
This leisure centre is only about five minutes' walk from Caringbah train station, though keep your map or gps handy and don't go the wrong way at the main intersection, as I did. Lots of free parking by the pool, also.
Gentle steps at both sides of the shallow end, with vertical steps nearer the deep end too.
There are lots of warm showers in the changing rooms.
Other practical points
Entry fee $5.90 (with other concessionary rates) in 2015.
There's a shorter pool, which was actually used more than the Olympic Pool on the morning I came by, so perhaps that's where the kids hang out. There's also a paddling pool, but that was empty for the winter.
Open all year round
History and stories of the pool
The complex was opened in 1967, probably during my own wonderful year in Sydney as a 7-year old, though I couldn't swim in those days so didn't get too excited by new swimming pools!
I reckon the 'Loitering prohibited' sign in the men's changing rooms must have been here since Day 1 – nice piece of history; shame it's still needed!
Ian Thorpe has been known to swim here, and used the pool a lot during his preparations for his recent comeback. At 24 seconds for his 50m laps, he'd be the big figure that would glide silently past, I was told by one regular.
People I met here included:
Laurie, who was born in one of the neighbouring streets, and has in the past raced against Kev, the former Olympic trainer here.
Another regular whose name I didn't catch. He's the one with the Ian Thorpe stories, and he has been known to swim the English Channel himself in the past (part of a relay team, he added, but still I was impressed).
What's your story? Any memories of swimming here? Any stories to tell? Or did you just have swimming lessons in the cold of winter in the 1970s?
Whatever you have to say, however brief, I'd love to hear from you and will add any stories to this section of the site as and when I receive them.  Add your comment or story under 'Leave a Reply' below.
Links to other articles on this pool
I found no other blog articles on Caringbah Pool, but Fox Sport News did cover the return of Ian Thorpe here in 2011
Coffee, tea or milkshake after the swim?
There is a kiosk by the pool, but there's really good coffee to be had if you go the extra half mile back towards Caringbah train station
Sister Fox Espresso – Kingsway, Caringbah
Open Monday – Saturday from 5.30am. Closes at 4pm Monday – Friday and 1pm Saturday
Closed Sundays
Sister Fox Espresso reviewed by Fancy a Cuppa website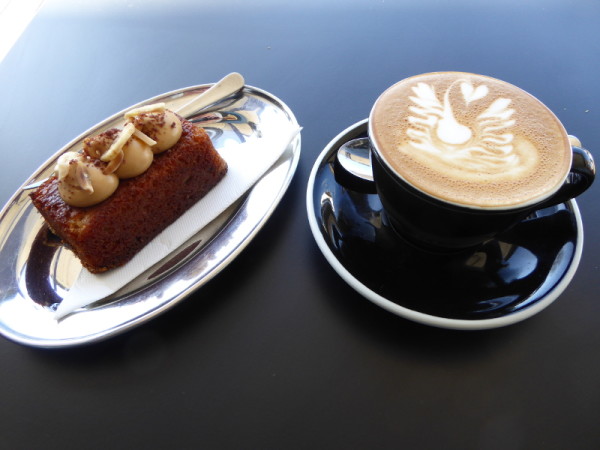 This great little coffee shop in Caringbah is run by the sister of the Sutherland White Horse coffee roasters. Hence its name. And hence they use the excellent White Horse coffee. This is coffee it's really worth going the extra half mile for. After a swim, when the coffee is this good, I usually can't resist a second cup, too. Single origins available at no extra cost. Nice gluten-free banana cake, as well as the usual banana breads.