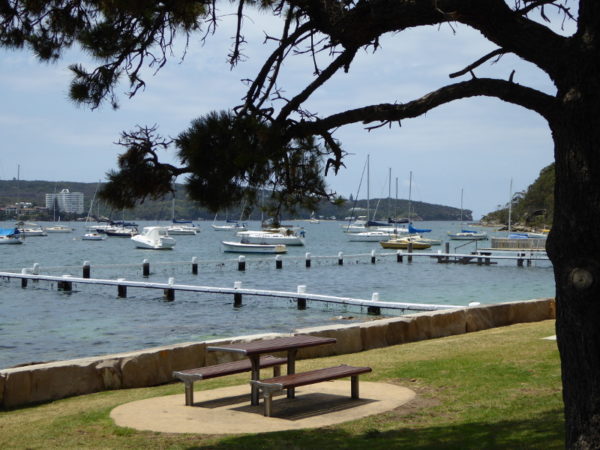 Forty Baskets name came from the quantity of fish caught locally for soldiers at the Quarantine Station nearby in 1885.
My experience in the pool
Forty Baskets pool across the harbour from Manly is best at high tide, I'm told. It's not the easiest harbour baths to get to on public transport, so I had postponed my visit several times after checking the tides on days I was free. But I finally made it on this warm morning at the end of November and the tide was just an hour past high.
I actually think the water must be deep enough for a fair few hours either side of high tide because at the outer limit of the shark net it must have been a good 4m deep and I was at a comfortable swimming depth within about 10m of entering the water at Forty Baskets Beach.
It's a lovely spot, about 40 minutes walk from Manly along the Scenic Walkway that takes you around the headlands (past Fairlight Pool actually) to the romantically named Forty Baskets. There are great views across the harbour from the swimming enclosure: Fairlight Pool is directly across the bay; the Manly Ferry sat berthed and in clear view beyond the shark net; and look carefully round to the right as you stand on the wooden walkway beside the pool at Forty Baskets and you can just see the jutting rock face of North Head, where the real ocean waves crash over the rock platform.
No waves at Forty Baskets Beach pool on my muggy morning there, though. There was a bit of wash through the shark net making me careful of which way I turned my head on freestyle, but nothing dramatic and barely a mouthful of salt water swallowed during my time in the water.
Judging by my stroke count, I'd guess the width of Forty Baskets pool to be about 40m. The shark net looked like it had recently been renewed too, which is always reassuring when I'm swimming alone, though it really is nothing more than a string mesh on close inspection.
The water was a great temperature, cooling on a warm day, but not so cold as to send me shivering. I was the only person swimming this morning, but there was one Mum and her toddler having a paddle in the shallow waters, so it looks like a good, safe place to bring your young 'uns for an introduction to the sea.
Getting there, getting in, getting changed
About 40 minutes to walk to Manly Wharf (take ten minutes to walk to the coffee shop for that post swim coffee and then half an hour more to the Ferry). I tried catching the bus from Manly to get to Forty Baskets: they are only one an hour and they wander all round the houses, so I got off far too early and ended up with a hilly walk to the pool. I THINK the nearest stop is just a short walk from Forty Baskets, but beware: there are about 130 steps down to the beach and the pool.
There's a small beach at high tide, which grows bigger as the tide goes out and the water gets more shallow. There are vertical steps from the wooden walkway direct into the deep end.
There is a shower right by the beach, but the changing area and toilets are a good 100m away along the Scenic Walkway. At least they are on your path back towards Manly. There is just one unisex changing cubicle and no showers at the toilet/changing shed.
Tidal differences
Best at high tide, but the water may well be deep enough by the shark net even at low tide.
History and stories of the pool
I found no history or stories about Forty Baskets swimming enclosure. If anybody has any to contribute, I'd love to hear from you.
People I met in the pool
Just a brief hello with the Mum down at the pool at Forty Baskets. She was busy getting her toddler used to the water in the shallows so not much opportunity to engage with her.
What's your story? Any memories of swimming here? Any stories to tell? Or did you just have swimming lessons in days gone by?
Whatever you have to say, however brief, I'd love to hear from you and will add any stories to this section of the site as and when I receive them.  Add your comment or story under 'Leave a Reply' below.
Links to other articles on this pool
The Three Bathing Belles bloggers visited Forty Baskets in 2012.
Not many people seem to have written about their experiences in Forty Basket Beach pool, though. If you know of any other articles or blogs, drop me a line in the comments section.
Coffee, tea or milkshake after the swim?
It's just a ten minute walk back along the Manly Scenic Walkway towards the Manly Ferry terminal to find a good post swim coffee…
Forty Beans Café – 11 Lower Beach Street, Balgowlah, NSW 2093
Open Daily:  7.30am – 3.00pm Monday – Friday; 8am – 3.30pm at weekends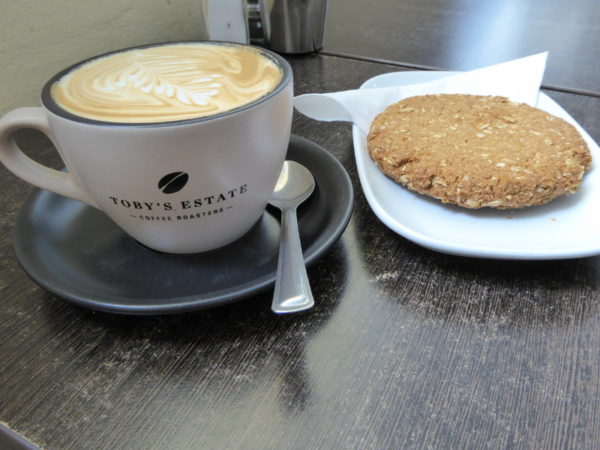 Very friendly local coffee shop just ten minutes walk from Forty Baskets pool. They do a very decent coffee using Toby's Estate and had some very home-made looking Anzac biscuits, which made a welcome change from the usual nibbles on offer. There were muffins, walnut slices and a great bowl of fresh fruit which would have been tempting on another day. It was also a nice surprise to find a coffee shop offering free Wifi, something you hardly ever find in Australia. Good spot for coffee in Balgowlah (well officially, I think, coffee in Balgowlah Heights).