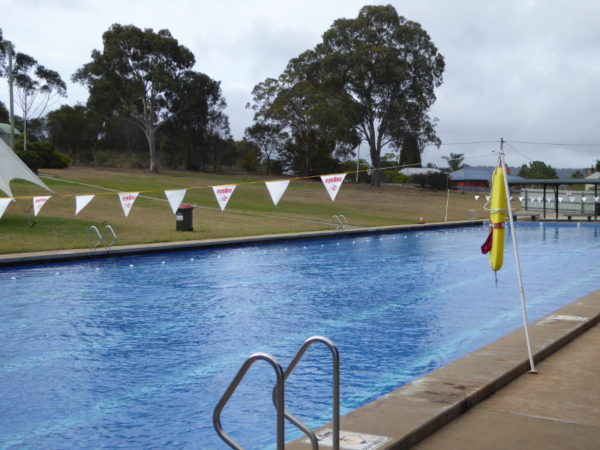 Eden was named after a 19th century politician, not after anything biblical…
My experience in the pool
We were in Eden to swim in the ocean pools, but when you drive past a superb 50m Olympic Pool on your way into town, it's hard to resist popping in to stretch out and do a few laps as well as jumping in the rock pools.
Eden's War Memorial Pool was built in the 1970s to give local kids an opportunity to swim when the local rock pool filled up with sand and meant proper lap swimming was not an option. Apparently there is some risk that the pool may not continue to receive local funding, and there is a petition to try to put a stop to any closure plans.
On the day of our visit to Eden, it was swim carnival day, so for five hours the pool here was rocking to the screams of 200 kids competing in that great Aussie tradition: the annual swimming carnival. The pool could just do with a few more popular days like that to guarantee its future.
By the time I turned up, towards the end of a Saturday afternoon, there was just a handful of kids left (and one Mum urging her daughter out of the water: '"Come on, you've been in here all day!") and two or three adults ploughing up and down doing laps.
The PR guy in me thinks all of these pools under threat need to get some serious backing via social media, maybe following the example being set in parts of the UK now where things like tidal pools and other outdoor swimming pools are being reopened – or built new – thanks to local campaigns. But in truth, it will probably take more than a few tweets or blog posts or crowdfunding campaigns to improve the lots of pools like this.
Eden Olympic Pool is a beauty, though. It's not just the deep blue of the tiling in the 50m pool, which always lifts my heart when I see it; it's also the setting, with its classic Australian parkland of tall gum trees, and in an excellent final touch from the planners and architects, fabulous views of the sea down below the town, when you stand by the pool, though these views are best when you emerge from the changing rooms high up above the pool.
There was a sea mist rolling in from the east as I finished my swim, which made me wonder how many atmospheric days there are for swimming in a town like Eden (and the lifeguard assured me there are no stupid South Australia-style rules about minimum air temperature before they open the pool on a given day: no, once it's pool opening season, Eden Olympic Pool is open every day, rain or shine, cold southerly or piping hot northerly).
The people of Eden are truly blessed. They have so many great spots for swimming, and are surrounded by so much beauty.
They could just do with a town centre that stayed open a little longer on a Saturday afternoon. Most of the shops close by lunchtime on Saturday, and even our favourite café was finishing early because it was so quiet, which was a shame since they looked like they did a rather nice Devonshire Tea, but that should be at 4pm in my book.
Ah well, this blog is about the swimming, and I can't fault Eden on that score.
Getting there, getting in, getting changed
The Olympic Pool in Eden is right by the main road into town – on the Princes Highway. So you can't miss it coming by car. And I guess if you get the bus from Sydney (which is possible to do, by the way), you also drive right past the pool.
Nothing remarkable about getting into or out of Eden Pool.
The changing rooms are high up above the pool, which means you are guaranteed great views as you emerge from them either to head to the water or to head home.
Other practical points
Entrance fee at Eden Olympic Pool is $4.50 (2017).
This is a seasonal pool, so it is not open in the winter months.
There is a 50m pool and a small paddling pool next door, though this is not in the shade, whereas the seating nearby is!
History and stories of the pool
I haven't found any stories about Eden Memorial Pool or Eden Olympic Pool, as it seems to be called as well. But I did find this link to a petition calling on the local authorities to preserve the pool, though make sure you read the comments discussion below the petition itself as they give a flavour of local feelings…
What's your story? Any memories of swimming here? Any stories to tell? Or did you just have swimming lessons in days gone by?
Whatever you have to say, however brief, I'd love to hear from you and will add any stories to this section of the site as and when I receive them.  Add your comment or story under 'Leave a Reply' below.
Links to other articles on this pool
All I found so far is that petition on Change.org, already linked to above.
Coffee, tea or milkshake after the swim?
Head to the centre of Eden for my favourite coffee shop in town…
Cuppaz Café –  207 Imlay Street, Eden, NSW 2551
Open Daily: 6am – 3pm Mon-Sat; 8am-2.30pm Sunday
Cuppaz get their coffee all the way down from Byron Bay, and for us it was the best coffee in Eden. We also went back for breakfast there on the Sunday morning, when we tried their loose leaf tea, which gave us a really good kick-start to the day. We mistimed our return for afternoon tea as they close quite early at the weekends, but the scones and jam looked delicious. You can see why this is a popular place with locals – just a shame they don't open a bit longer for summer visitors like us!
.