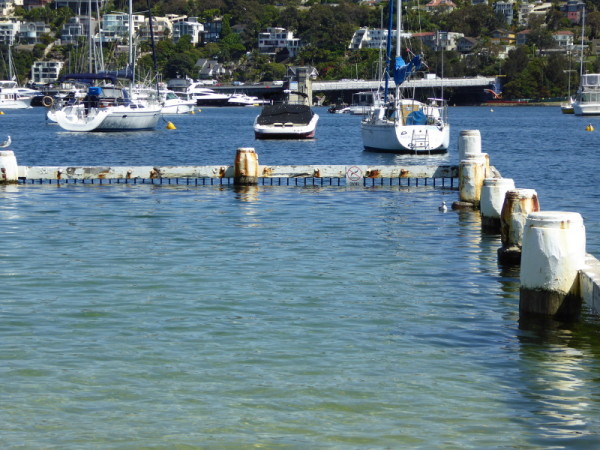 Clontarf is named after a suburb of Dublin, where there also used to be an ocean pool.
My experience in the pool
Clontarf Baths were apparently one of my favourite places to come when we lived in Sydney 50 years ago and I was just a little primary school kid, who couldn't even swim at that point. Coming here 50 years on, with the water a delicious 20C at least and the sky a cloudless blue, I can see why.
Funnily enough, when I was looking up who had written blog posts on Clontarf Baths, before I set out to visit, I was struck by just how many 'Mums and Bubs' blogs there were on this swimming enclosure.
When I looked up Clontarf's demographic and discovered that this North Shore suburb sitting right over the beautiful Middle Harbour has the highest median income in all of Australia, I thought 'Ladies of Leisure' and the classic stay-home Mums down at the beach for some company and to get their little ones used to the sand and the sea.
The reality is that at around 10am on this sunny Friday in November, there must have been 50 or so Mums and probably 60 or so 'bubs' on Clontarf Beach. Remarkably in this day and age, only one Dad with bub that I could spot, but I guess Clontarf just isn't Peckham or Islington (London's near equivalent) yet…
They were a friendly bunch, mind. Lots of chats about the water temperature and even a post swim coffee chatting to two Mums who actually apologised for 'forcing' me to listen to their grumbles about the strains of 24/7 parenting. And nobody batted an eyelid when I got my camera out to get some shots of the baths, though I was pretty demonstrative in not getting toddlers in the pics (I think).
OK, so why are Clontarf Baths so popular?
At a guess, they combine perfectly safe water with a gently sloping beach meaning non-swimmers can paddle away to their heart's content (as I presumably did as a 7 year old all those years ago), but actually the waters are amply deep enough for a decent swim too.
It was an hour or so off high tide when I arrived and by half way from the beach to the shark net, I was already virtually out of my depth. The water was delicious. Calm, cooling in the warm sun, and lots of fish to swim among – from little tiddlers in the shallows to fairly sizeable threesomes darting away nearer the shark net as I swam nearby.
The net nicely forms a 50m or so length so it really is possible to do laps here, though as usual without my lane markers I am a hopelessly skew-whiff swimmer. I think the gent in the water after me who hugged the deepest waters by the shark net found the only way of guaranteeing a straight 50m crawl.
Clontarf Baths go into my top ten favourite pools on this NSW ocean pools quest. I know pedantic diehards will say it is a Harbour swimming enclosure, not an ocean pool, but the water is definitely salty here (much more so than the briny waters of Woolwich the other week).
A delightful spot and I'll certainly be back again, before another 50 years is up this time!
Getting there, getting in, getting changed
There is ticketed parking right by Clontarf Beach Reserve. But I went on public transport as usual. I caught a bus up to the Spit bridge, got off on the last stop before the bridge and walked over it to pick up the Manly Scenic Walkway, which wound its way through fantastic bushland (with lots of exotic birds, lizards and other wonderful wildlife) and round the little inlets before emerging at Clontarf Marina. 20 minutes' walk or so but definitely worth it. Probably a good bit longer to continue the other way to Manly and take the ferry, but I guess that is an alternative public transport route to Clontarf.
There's only one way into the water at Clontarf Baths and that's paddling in via the little sandy beach by the Reserve.
There are the usual beachside showers on the grassy mound by the Baths themselves and if you need some privacy to get changed there are proper toilets with cold water showers about 100m away across the grass.
Other practical points
The baths at Clontarf are tidal for sure, but I get the impression from the slope of the beach that as long as you swim pretty close to the shark net, you can probably do good 50m laps at any time of the day or night.
History and stories of the pool
It was hard to do much of a search for history or press clippings on Clontarf Baths. This is mainly because there are actually two Clontarfs in Australia (the other a Queensland resort), and a rather lovely spot on the outskirts of Dublin, which I can remember going past in the train when I went to Ireland to pick up Iranian visas (but that's a whole other story, not for this blog) – sadly according to the articles I did find, those Irish Clontarf Baths were rather controversially allowed to close down a few years ago so they sit looking tempting but inaccessible now. Shame!
As usual, if anyone has memories or stories about these baths (the NSW Clontarf Baths, that is), please share them here.
People I met in the pool
Clontarf Baths are like a Piccadilly Circus for Mums and toddlers. So I didn't manage to swap stories with any older folk who may have been coming here since my last time at Clontarf (that was in 1967 by the way). But, as I said above, the Mums I did interact with were all friendly enough and it was actually quite nice to watch them all at play (well the kiddies, rather than the hardworking Mums…).
What's your story? Any memories of swimming here? Any stories to tell? Or did you just have swimming lessons in days gone by?
Whatever you have to say, however brief, I'd love to hear from you and will add any stories to this section of the site as and when I receive them.  Add your comment or story under 'Leave a Reply' below.
Links to other articles on this pool
Seana, of the Hello Sydney Kids website, reviewed Clontarf Baths in 2013.
Mums and babies have clearly been frequenting Clontarf Baths for a few years. This blog post is from 2010.
More info for Mums on this website, where Clontarf Baths come top under this blog entry for October 2016.
The Three Bathing Belles swimming bloggers came to Clontarf in 2012.
You need to scroll down the Lazy Swimmer's blog post from 2010 to find the review of Clontarf Baths
Coffee, tea or milkshake after the swim?
There don't appear to be any shops, let alone coffee shops in Clontarf itself. But then, who needs to wander in search of a post swim coffee, when the beachside kiosk is this good at Clontarf?
Clonny's Kiosk – Clontarf Reserve, Clontarf, NSW 2093
Open Daily 9am – 4.30pm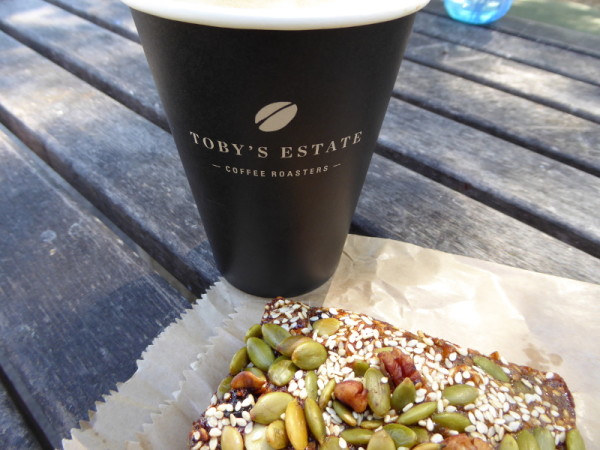 They do really rather good coffee at Clonny's, with Toby's Estate on offer for your flat white. But best of all, if you're after a post swim tea, they have the fantastic Rabbit Hole Teas here. Another good reason to return to Clontarf Baths, and maybe make it an afternoon visit at tea time, next time. Some pretty nice cakes too. It's all take away, but there are benches nearby with views over the baths as you sip your coffee (or tea) and contemplate what it must be like to have the highest median income in Australia…