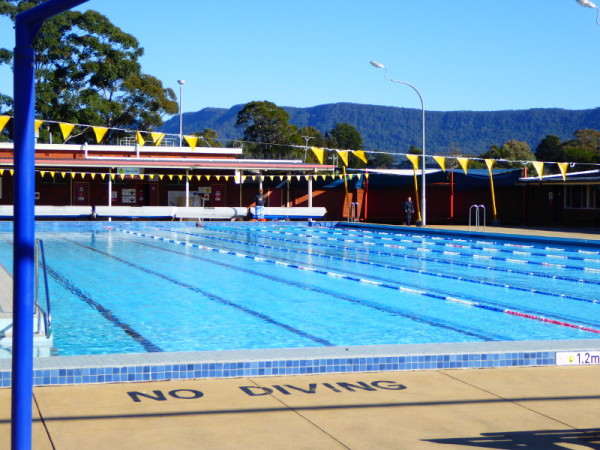 There's more to Dapto than the Dogs…
My experience in the pool
I was here on a cold but bright June morning.
The air temperature was 13C but felt a good deal colder with a chilly wind from the SW. This made for interesting sensations as I swam. The feel on the back switched between warmth from the sun, cold from the wind and something in between as the water splashed onto my back with each stroke.
It's a beautiful pool, with palm trees by the side and views up to the escarpment west of town.
There were six lanes in use the morning I was there, with a couple of people in each, though I got lucky and had one lane to myself, meaning I could easily switch to backstroke when I felt like a change. There's room for two or three more lanes, but this area was left for leisure swimmers or those who didn't want to do laps.
Getting there, getting in, getting changed
The pool is well signposted from the Princes Highway in Dapto (signs for 'Dapto Heated Pool'). If you're on public transport, it's a bit of a hike from the nearest train or bus stop, though.
There are lots of access points to the pool, with shallow steps at the shallow end and even a disabled lift.
There are warm showers in the spacious changing rooms; just don't get fooled as I was by the handle with an H on it (the only one in the Men's): this does not put the hot water on; instead you need to press the push start-stop style tap (weirdly this has blue on it, not red – but I only found this out after I'd had my cold shower!).
Other practical points
There is a large paddling pool next to the main Olympic Pool.
Entry fee $4.90 (with other concessionary rates) in 2015.
Freshwater pool open all year round
History and stories of the pool
Dapto History in Photos page on Facebook shows pictures of the pool a year after it was built in 1965. The comments under the entry show how popular this place was in those early days. I love the image of hundreds of bikes piled up outside the pool, a real demonstration of how our habits and means of transport have changed in 50 years.
There's some suggestion, both in the comments on Facebook and in local media stories a few years ago, that there was considerable controversy when entrance charges were introduced for the pool.
The memorial plaque at the entrance to the pool shows that it was built in memory of those who gave their lives in World War 2, though given the issue over the fee to get in, it's also interesting to see that it was initially part-funded by local citizens, an individual benefactor (unnamed) and the Coal Board!
People I met here included:
No particular encounters here, though I shared a joke with two ladies having a mid-morning swim, and there were two young guys clearly in serious training in the fast lane. In other words, this is a real mixed clientele.
What's your story? Any memories of swimming here? Any stories to tell? Or did you just have swimming lessons in the cold of winter in the 1970s?
Whatever you have to say, however brief, I'd love to hear from you and will add any stories to this section of the site as and when I receive them.  Add your comment or story under 'Leave a Reply' below.
Links to other articles on this pool
Facebook: Dapto History in Photos
Coffee, tea or milkshake after the swim?
There is a kiosk by the pool itself, but it was closed on my chilly June morning. So go back to the princes Highway, where there are two choices I like for different reasons:
Alexander's Café  – Princes Highway, Dapto
Open 7.00am – 7.00pm (M-F); 8.00am – 5pm (Sat-Sun)
Alexander's Café reviewed by Fancy a Cuppa website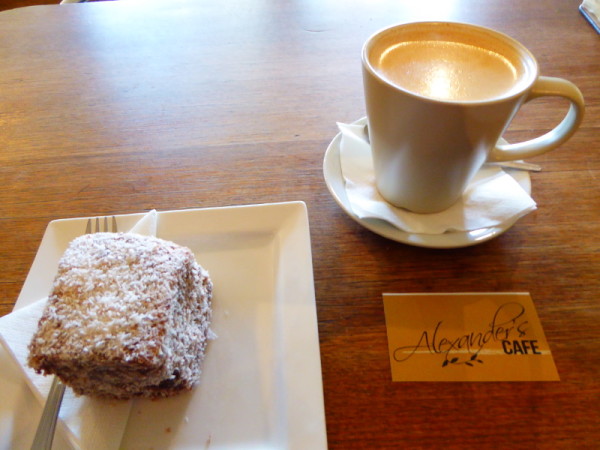 I like this place for its relaxed atmosphere, with lots of coffee paraphernalia like bean sacks and local artwork around the place. They also bake most of their delicious cakes in-house. The coffee is Delano's from Wollongong. The flat white I had was not bad (though I actually preferred my coffee at the other place below), and the guest book lying on one of the tables suggests their milk shakes could be top notch.
The Café – Dapto Anglican Church, Moombara Street, Dapto
Open 9am – 4pm Monday – Friday (closed weekends)
The Cafe reviewed by Fancy a Cuppa website
The best coffee in Dapto (although it is from the same roasters as the other café reviewed here – Delano's in Wollongong) and excellent tea from local suppliers iTea. The choice of nibbles to go with your cuppa is slightly more limited, focusing mainly on banana (and other fruit) breads, which are very good by the way. The décor is slightly more functional and less atmospheric than Alexander's, so it all depends what your priorities are…