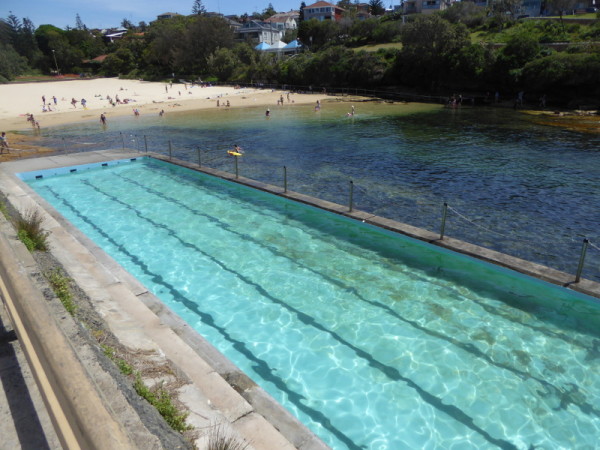 Indirectly named after a North Devon village
My experience in the pool
The great thing about Clovelly is you can have two completely different rock pool experiences: there's the 25m lane pool with marked lanes and nice clear water; and there's the big ocean water in Clovelly Bay itself. The bay is basically one big rock pool, since it's protected from most of the surf and rips by a reef or old wall at the bay entrance, which is the remains of an attempt to build a causeway back in the 1930s.
So on a bright sunny morning in November I had to make a quick choice. Graham, the local I got chatting with on the concrete concourse at Clovelly (see below for more on Graham), was urging me to go straight for the real ocean pool of the Bay itself, but I felt I needed to test my sore shoulder in the rock pool and in any case this blog started life as a mapping exercise for the NSW ocean baths, so I let myself slide into the clear waters of the 25m pool that sits above the water level on the southern side of the bay.
There were three or four others doing gentle laps as I began, but since this small pool has four or five lanes marked off there was plenty of room for all (I think this is not a place for those serious and competitive squad swimming types, since it is only 25m – and I couldn't help thinking again how small it felt after all my 50m pool experiences over the last ten months in Australia).
Pool temperature was a lovely 19C, the water is an even depth, just coming over the waist band of my speedos. It's a very nice pool.
You're swimming right under the gaze of passers-by on the path above, many of whom linger to look at the views across the bay, so if you're self-conscious about your swimming, maybe you'll be better off in the big pool at Clovelly, and by that I mean of course the Bay itself.
There are steps down into the bay on both sides (north and south) or you can enter from the shallows of the beach itself.
On a calm day like today, you barely realise you're in the ocean, with no swell or surf breaking over the wall at the Bay's end. It's a pure delight to swim in open waters and to see so many fish right under your nose down on the ocean floor.
There seemed to be a wonderful mix of seasoned locals, overseas visitors, people swimming circuits or lengths of the bay, and those just playing around with balls and floats. On a day like this, Clovelly would get my vote over most of the beaches and pools I've visited so far on this quest.
Getting there, getting in, getting changed
Buses park up just above the rock pool on the southern side of the bay, and they arrive in Clovelly from Central or Bondi Junction and the CBD. I didn't notice a car park or any free spaces, but since I was on public transport, I wasn't really looking this time.
Steps at either end of the 25m rock pool and steps (a bit slippery) down into the main bay on both sides at different points along the concrete concourse.
The shower on the concourse seemed to be getting lots of attention, as in November 2015 it was relatively new. And it certainly was getting a fair bit of use. Without it, I can't see where else you'd wash off the salty water, because the toilets and changing rooms up by the poolside café don't have showers in them.
Tidal differences
On a calm, sunny day, there is no tidal difference to the lane pool at Clovelly. I was in the Bay on an ebbing tide, three hours after high, so the water was a lovely depth, but I gather at low tide it is sometimes possible to see the old wall at the entrance to the Bay. And Graham told me that on a king tide, the water comes right up over the concrete concourse up to the steps we were standing on above the Bay. It presumably also then washes out the rock pool, too.
Other practical points
Check Randwick Council website for potential pool closures for cleaning – that saved me a wasted trip in October.
History and stories of the pool
As early as the 1920s or 1930s, there had been plans to build an Olympic Pool in Clovelly Bay, and a causeway across the end of the Bay to cut the bay off from most of the ocean swell.
A storm in the late 1930s did away with most of what had already been built, leaving Clovelly Bay with the remains of the wall or causeway, which apparently is still visible at low tide across the Bay entrance.
The current rock pool was built in the 1960s, with the argument apparently that it would mean less concrete being needed for the rest of the concourse. Take a look at the hexagonal shapes in the concrete concourse towards the ocean end of the concreted area: these were apparently the base for the tall steel pylons that were installed during the War as part of Clovelly's complex defences against possible invasion!
People I met here included
I had a great chat with Graham, who is lucky enough to have lived here all his life, and he's now 75! He and his wife are regulars in the water, but he chooses the Bay over the lane pool every time, and seems to have great knowledge of the water round here, remarking on its calmness today and noting the direction of the tide as we spoke. He also pointed out how much defensive infrastructure there was installed here during the war, presumably because the narrow bay was seen as an easy landing point for enemy troops. He reassured me on the lack of nasties in the water like sharks or bluebottles, though another lady I met on my way into the water did say a small wobbegong shark had been seen here recently, but they are pretty harmless it seems.
What's your story? Any memories of swimming here? Any stories to tell? Or did you just have swimming lessons in days gone by?
Whatever you have to say, however brief, I'd love to hear from you and will add any stories to this section of the site as and when I receive them.  Add your comment or story under 'Leave a Reply' below.
Links to other articles on this pool
Swimming blogger Sally came in 2009
Nature blogger Allan was also here in 2009, but he got down deep with the fish…
Funnily enough I heard French being spoken in the water at Clovelly, so maybe this is a popular spot for French visitors to Oz
Coffee, tea or milkshake after the swim?
Two places stand out for me for coffee and tea in Clovelly, so it's worth a few minutes' walk to get to them:
Deviate Café, 344 Clovelly Road, Clovelly, NSW
Open 7.30am – 3pm Monday – Friday; 8am – 3pm Weekends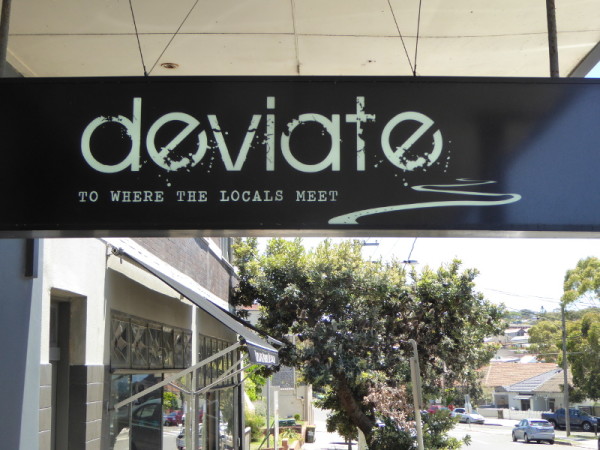 If you like an ocean view with your cuppa, this is the place to come for a post swim coffee or tea in Clovelly. It was coffee time when I was there so I went for the Deviate blend done specially for them by Delanos Wollongong. But I'd like to get myself back here for an afternoon swim and drop by to try the loose leaf teas they sell from the wonderfully named Bloody Good Cuppa, a company whose teas I still haven't managed to try but I'm determined to one day soon. Deviate: I'll be back!
Also worth going the extra half mile to:
Top Hat Coffee, 315 Clovelly Road, Clovelly, NSW
Open 7am – 5pm Daily
Top Hat Coffee reviewed by Fancy a Cuppa website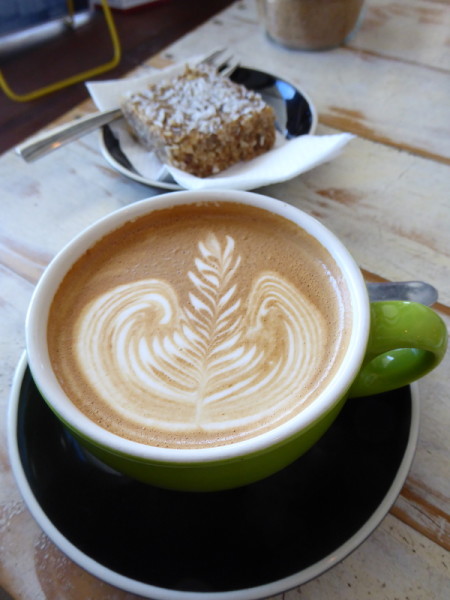 The single origin Burundi I had for my flat white at Top Hat was one of the best coffees I've had in weeks, so for my post swim coffee in Clovelly, I'd thoroughly recommend going the extra half mile. They have a fantastic range of coffees to choose from and lots of different methods of preparing your brew, including a whole list of iced coffees on the summer menu. This is a really cool venue, too, with quirky art on the walls and white tiles to the bar. Best coffee in Clovelly, surely; best coffee in Sydney's Eastern Suburbs? I wonder…
For other ideas on what to do while you're in Clovelly, try the link below:
http://www.sydney.com/destinations/sydney/sydney-east/bronte-and-clovelly
.