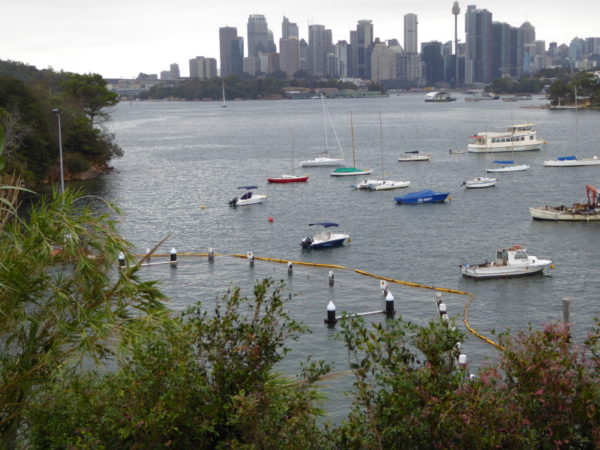 Greenwich is named after its namesake on the River Thames in London
My experience in the pool
Greenwich Baths sit on the north side of Sydney harbour, with great views back to the Sydney CBD skyline. Greenwich Point, next door to the baths, lies just round the corner from where the Lane Cove River meets the Parramatta River, hence the briney water mentioned by one of the other swim bloggers I link to below.
This was my first swim on the NSW ocean pools (and harbour baths) quest since Christmas. I wouldn't normally go on such a cloudy day because the pools always look so much better with blue skies overhead, but it was time to renew my efforts, and in spite of the lifeguard's worries that the water might be chilly, I figured by end of January, it surely had to be at least 20C, and I was right.
Some of the other reviews of Greenwich Baths talk of detritus on the surface and lots of jellyfish in the waters here, but all I could see was a faint film of oil on the water by the sloping ramp at the entrance.
According to local swimmer Wendy, who chatted with me after my swim, this oily film was new and not something she'd seen before in all her time swimming at Greenwich. She reported it to the lifeguards, who were discussing it even as I left. It was possibly a small leak from one of the many boats – and bigger ships – that cruise past Greenwich Point regularly.
Still, once in the deep, and onto the laned swimming area, there was no sign of that oil and I'd forgotten about it completely.
It's nice to have the lane ropes at Greenwich, as they help wayward swimmers like me keep to the straight and narrow. The laned area is only about 30m long, though. That was fine for someone like me returning to swimming after a few weeks lay-off, but I noticed Wendy, the only other swimmer in the pool while I was there, sticking to the unlaned area, which gives you a longer stretch, maybe up to 60m, if you really want to do your distances here.
At high tide the water is deep at Greenwich, though there are no depth markers to indicate just how deep. There is a nice sandy beach even at high tide, and the buckets of kiddies' toys left by the beachside suggest that this is a fun spot for parents to bring young 'uns for a safe paddle from a cosy beach.
I seemed to be the only one to enter the water via the – admittedly rather steep – ramp by the kiosk. The other swimmers I saw waded in via the sand. But the ramp is nearer the lanes area, so felt like the easier option to me.
I also got a few cuts and bruises from my laps at Greenwich. Nothing major, mind, but I'd need to be a regular here to work out how to turn at the end of each lap: there is no wall as such to push off, and the small barrier at the lane ends was covered in slippery seaweed, with edges that I caught various parts of my body on as I turned at each end.
Greenwich is a great spot, though. Tucked away in a quiet, residential part of Sydney, but so close to the CBD. Both the staff on duty for my visit were also Poms on working visas, and one of them couldn't believe how lucky she was to work here.
Like me that morning, she had caught the ferry from Circular Quay and wandered round to the Baths for work. Not a bad life if you can get it.
Although it was really quiet for my visit, this had the feel of a local community pool, and I loved the memorial plaque – and sculpture (of a chess piece!) – for a certain John Purdy, who had been Aussie chess champion (hence that sculpture) – who had swum at Greenwich Baths regularly between 1941 and 2011. Shame I won't be able to hear the stories he could have told about the place…
Getting there, getting in, getting changed
Ferry from Circular Quay takes about 20 minutes to get to Greenwich. There are buses that stop virtually outside the Baths. Parking looks to be pretty easy here also, and no charge.
Enter the water via the sandy beach for a gradual increase in water depth, or take the steep and slippery ramp, holding onto the handrail, if you want to reach the deep quickly and be nearer the laned area.
They are still in the process of rebuilding the changing rooms at Greenwich Baths, so for now there is a temporary toilet and changing shed. There is a shower by the poolside, but presumably once those new changing rooms are finished, you'll be able to shower there too.
Tidal differences
Best at high tide, but I think it is possible to swim at Greenwich Baths on any tide.
Other practical tips
$4 entrance fee in 2017 for a swim at Greenwich Baths
The baths are open from September to April inclusive (see photo in the gallery for actual opening times)
History and stories of the pool
For the best history of Greenwich Baths, go to the website of the Baths themselves, which has a gallery of lovely old photos and some insight into the beginnings of swimming around Greenwich NSW. It was built in the 1920s, with some former swimming champions being regulars here (though I have to confess I hadn't heard of them).
I also found on the Trove website a 1937 article from The Sun newspaper, which referred to complaints that ships unloading nearby led to pollution in the baths. Coincidence that 80 years on, that can occasionally be a problem even today when numbers of ships going past are so much fewer.
People I met here
Meeting Wendy who told me the oil was a new thing she hadn't seen before in her years swimming at Greenwich. She loves the place and swims regularly here, preferring the open water before the laned section as it gives scope for swimming longer 'laps'. Wendy was gushing about how friendly the staff here are, and how they work hard to clean the pool every day. (In fact one woman was netting fallen leaves from the shallows as we spoke). We had a nice chat about my pools project, and Wendy very kindly gave me a lift to that coffee shop up Greenwich Road! How's that for local kind deed of the day?
What's your story? Any memories of swimming here? Any stories to tell? Or did you just have swimming lessons in days gone by?
Whatever you have to say, however brief, I'd love to hear from you and will add any stories to this section of the site as and when I receive them.  Add your comment or story under 'Leave a Reply' below.
Links to other articles on this pool
Swimming blogger Therese came to Greenwich in 2016 for Valentine's Day.
The Mrs G Spot swim blogger has also written about Greenwich Baths.
Kenton, the guy seeking to swim 1000m in 1000 pools has also ticked Greenwich Baths off his list.
The I'd Swim That blogger came to Greenwich in 2013.
Jema Mum blog wrote about Greenwich Baths in 2014.
And just to prove that Greenwich Baths are a popular spot for parents to being small kids, here's another blog entry on Sydney's best places for children.
This blogger included Greenwich Baths in their entries for Sydney beaches to go to, so that sand is really popular on some days, clearly.
 Coffee, tea or milkshake after the swim?
There is a kiosk at the pool entrance where you can have a coffee and take it onto one of the loungers by the poolside, if you fancy swim-watching after your own dip. My favourite place for coffee in Greenwich closed down, though sadly.