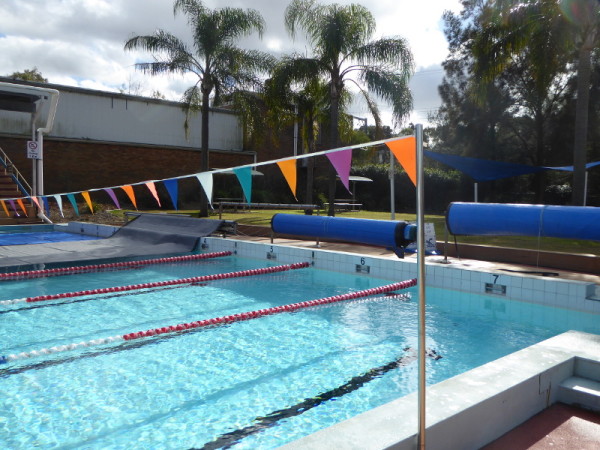 People swam in the Cooks River until this centre was built
My experience in the pool
It was a bit overcast for much of my swim and the air temperature was in the low teens. I guess I understand that most people chose to swim in the indoor pool next door, but I don't really get it, coming from northern England, as I do.  I just feel that Australia has such fantastic swimming resources and they are perhaps taken for granted by many people here.
Even with school holidays (yes, the kids were swimming in the warm or ice-skating at the rink on the other side of this complex), there were only three of us swimming in the whole of this Olympic pool on the morning I was here.
With so few customers, they take the energy-saving measure of keeping the covers on most of the lanes so there were just three lanes open for the three of us. Good policy, really, and the lifeguard assured me that if it got busier, they'd be opening the other lanes too.
So I had a whole lane to myself for the whole swim, which means I can swap strokes as often as I like, since there's nobody around who needs to get past my clumsy slow backstroke or who gets in the way of my medium-paced freestyle.
The pool is a little less deep than many, at 1m shallow end and only 1.6m deep end. It actually doesn't affect how I swim, but it is noticeable when you put your feet down at the deep end and find you can stand with head above the water.
There's lots going on immediately around this pool. At one end you have the railway line so you can train spot while you do your laps, there's a constant to-and-fro from the indoor pool, and next door there's the ice rink (which, I was told, was the reason the pool car park was so full). There's also the Cooks River, though you can't actually see it from the pool, and just beyond the river is Canterbury racecourse (again, invisible from the pool).
The big grandstand along one side suggests that there's a big turn out for the annual schools carnivals. And Cyril the lifeguard was telling me how it is an interesting feature architecturally since it is hollow underneath, so saving on massive amounts of concrete used at many such stands, and providing lots of space for the pool to store stuff.
Getting there, getting in, getting changed
Officially it's Canterbury Leisure Centre, but Campsie is probably the nearest large shopping area. Campsie station is about 15 minutes' walk away. Lots of car parking, on the street if the car park is full, as it was when I turned up.
Gentle steps at the shallow end, with vertical steps nearer the deep end too. Also a disabled lift by the pool side.
There are lots of warm showers in the changing rooms.
Other practical points
Entry fee $6 (with other concessionary rates) in 2015.
There's a paddling pool, but that was empty for the winter. And there was the indoor pool, which looked cramped and busy from my perspective on the outside. Much shorter, too, though I didn't check its length.
Open all year round.
History and stories of the pool
I was 7 weeks old when this pool was opened in 1959. I wonder how much it has changed since then.
One of the lifeguards, Sean, told me it was needed at the time because people had been swimming in the Cooks River until then, and with industrial waste that was becoming a more unpleasant experience, so there was local demand for a proper swimming pool.
People I met here included:
The other swimmers were busy doing their laps, but I had a long chat with a great team of lifeguards here: Sean, Cyril and Therese. It just shows what a difference a friendly bunch of lifeguards can make to the community feel of a pool.
What's your story? Any memories of swimming here? Any stories to tell? Or did you just have swimming lessons in the cold of winter in the 1970s?
Whatever you have to say, however brief, I'd love to hear from you and will add any stories to this section of the site as and when I receive them.  Add your comment or story under 'Leave a Reply' below.
Links to other articles on this pool
I'm intrigued by the comments to this blog post, by swim blogger Sally, which refer to the imperial measurements at Canterbury Pool. I didn't notice them, but that's maybe because half the pool was under wraps…
The Pool Lady came here in 2007.
Coffee, tea or milkshake after the swim?
I walked into Campsie (about 15 minutes on foot) for coffee:
Cherry Beans Caffe – Officially in the Campsie Centre mall, but in fact just outside on Amy St
Open Daily from 9am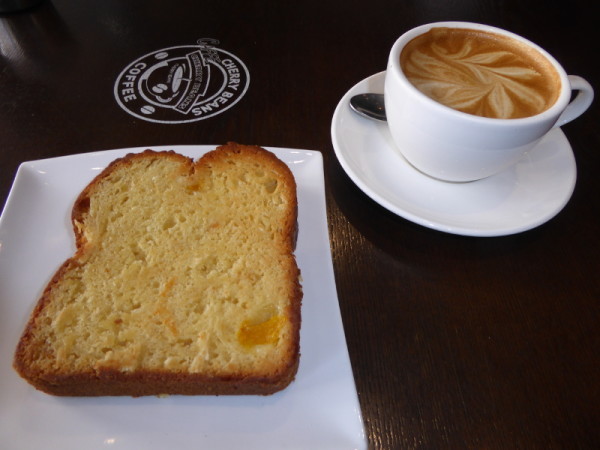 I don't usually recommend going to chains, but this group, with their 40 or so outlets across Australia, have kept their boutique feel. They roast the coffee in-house and it's really very good. They also supply some interesting loose leaf teas from SereniTea in Victoria, and a nice selection of home-baked goods.
The Corner Espresso-On the corner of Anglo Road and Beamish St
It's more of a caff than I'd normally choose, but they gave me my first opportunity to taste the rather good coffees from Frankie Shi under the brand name Tulip.Shi. For quality, as good as, if not better than Cherry Beans.