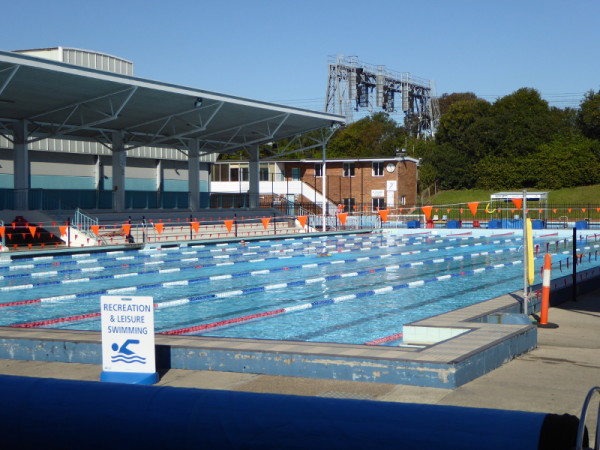 Home of 19th century tea room owner Mei Quong Tart
My experience in the pool
Another cold winter's day for this swim, but with bright sunshine, it's always a nice experience. The water was cooler than in many of those I'd swum in over the previous weeks, but I always tell myself: it's still warmer than Ilkley Lido (unheated) at the height of summer, so if you can swim in that…
For mid-morning on a working day, the pool was relatively busy and there were no lanes completely free, which means basically no chance to do backstroke.
Still, I can't complain. The joy of pacing up and down, with the sun's rays on my back, and only another swimmer to bother about every 40 or 50 strokes, is overwhelming. And I always end these swims with a big grin on my face.
The deep end wall of my lane had quite a few tiles missing. It doesn't bother me as I swim, but I always hope they aren't about to close pools down when I see things like that. Is it being left to fall apart slowly or are they building up towards a major overhaul some time soon ?
Watch the trains trundle past just beyond the deep end. Or, if you arrive at the right time, you might even get to see the UNSW Water Polo team practising or competing in the pool that sits perpendicular to the Olympic pool, also at the deep end. They were national champions in 2014 so probably worth a look.
Getting there, getting in, getting changed
It's a ten minute walk from Ashfield train station. It's nearer to Croydon station – one stop further west – but that is only served by slow trains, so your best bet is probably Ashfield. There's a big car park right next to the swimming complex.
The way they had the lane dividers laid out quite close to the steps on each side, and the fact that all lanes were in use, made it easier just to jump in the lane I'd chosen when the other guy was up at the far end.
Spacious changing rooms, though I was disappointed to see you have to pay 40c to get warm water in the showers (first time I'd seen that in over 35 pools visited). Nice old tiles on the floor of the showers, maybe dating from when the pool was first built?
Other practical points
Entry fee $7.40 in 2015. Add to that the $2 if you need a locker. And the 40c for warm water in your shower. This pool doesn't come cheap. But it's still a lot less expensive than what you'd pay for similar facilities in the UK, so I can't really complain.
There are three pools in all, though it looks as if the one at the deep end of the Olympic Pool might be just for the water polo team.
Nice spectator stands on both sides of the main pool, so they must get a big crowd in on carnival days.
Open all year round at 6am every day.
History and stories of the pool
Opened in January 1963, with Australia's first ever 30m water polo pool as part of the complex (see blog below from UNSW)
As well as those national water polo champions, this pool has in the past had a well-known Sydney Swans AFL player training here (though I'm not an AFL fan so can't recall his name); and the former swimming coach here is in the North Sydney Olympic Pool Hall of Fame, as a former Olympic Relay swimmer. Name of Warwick Webster.
I was also told by lifeguard Doug that the Aussie Synchronised swimming team trained here ahead of the Sydney Olympics in 2000. That would have been fun to watch.
People I met here included:
My only exchange was with a young Italian visitor. We swapped stories on swimming head gear, since I recall being baffled at being forced to go and buy a swimming cap when I wanted to swim in Italy 'for hygiene' reasons, even though I have no hair to fall out in the pool. And this Italian was equally put out that no such rules exist in Australia, where he says he doesn't like swimming with handfuls of long hair (not that I've found that a problem in my 30+ pools so far).
Other than that, my best chat was with Doug, the lifeguard, who was recounting stories of people he has seen training in the pool (see above).
What's your story? Any memories of swimming here? Any stories to tell? Or did you just have swimming lessons in the cold of winter in the 1970s?
Whatever you have to say, however brief, I'd love to hear from you and will add any stories to this section of the site as and when I receive them.  Add your comment or story under 'Leave a Reply' below.
Links to other articles on this pool
The UNSW Water Polo team have written about the history of their connections with this pool.
Another nice blog piece by The Happy Antipodean shows the pool's connection to the community as it was used by a group of people with dementia – blog from 2007
Coffee, tea or milkshake after the swim?
I walked to Croydon five minutes away for coffee:
Café on Strand – Right by Croydon Train Station on The Strand
Open Daily from 6.30am (Monday – Friday) and an hour or so later at weekends
Café on Strand reviewed by Fancy a Cuppa website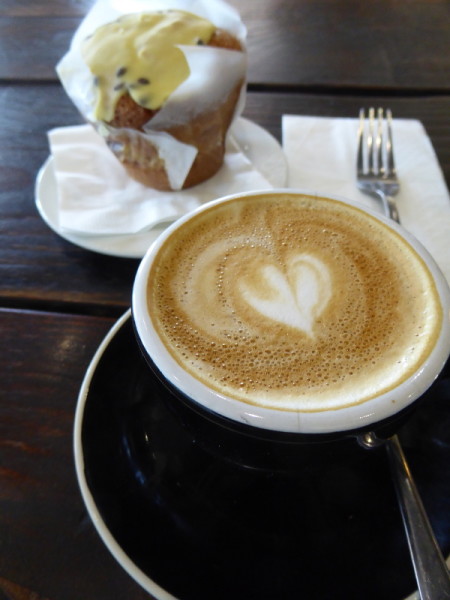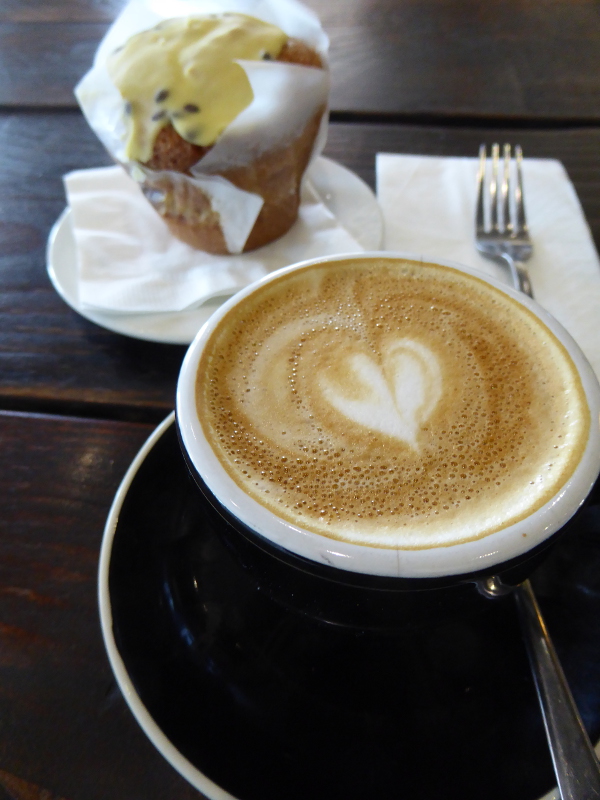 I love it when a local coffee shop roasts their own. These guys had three options on offer for your coffee: a lovely single origin, a good house blend (I tried both) and a decaff. And they do delicious muffins to go with it: I had a pear and passion fruit muffin, which went down a treat. Lovely place to sit either inside and admire all the old tiling from when the shop was a butcher's, along with the stained glass windows, or sit outside out the back and take in the sun. Great find for a post swim coffee.