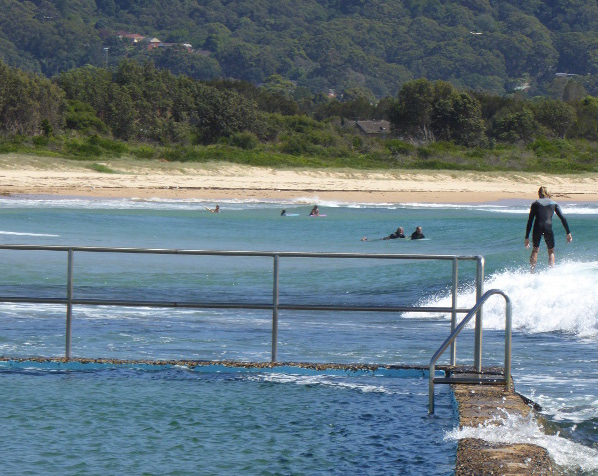 Surfer gliding past rock pool at Bellambi
Bellambi Rock Pool
One of the most recent rock pools to be built (in the mid 1960s)
My experience in the rock pool
I arrived half an hour after high tide, with the waves lapping over the edge of the pool, making for a fairly choppy look to the surface. So I decided to let the water recede a little before taking the plunge.
By the time I was in the water, an hour after high tide, the waves were just entering the pool at the far north end, so still a bit choppy just down that end. The rest of the pool quickly became very calm.
This is a beautiful 50m pool and one of the highlights for me was stopping for breath at the north end of the pool to watch the surfers glide past just a few metres away if they caught a wave.
There's quite a build up of sand at the shallow (southern) end of the pool but actually that's quite gentle on the feet if you want to stand and rest a while. A very pleasant experience (and I kind of agree with Kay – below – in preferring it to Towradgi just down the coast but it was a cloudy day there, and a bit of sunshine makes a world of difference to the joys of swimming outdoors).
Getting there, getting in, getting changed
The pool is at the southern end of Bellambi Beach. It's on the Wollongong – Thirroul bike path, and it's probably not more than about 15 minutes walk from Bellambi train station, but other than that, you're almost obliged to go by car. It's well signposted (blue signs for Bellambi Pool) though you have to zig-zag round a series of suburban streets.
To get in you have the options of the long ramp at the shallower end – though this can get quite slippery with a thin layer of seaweed build up) or vertical steps at the deep end, though this can be a bit dramatic at high tide!
There are four fresh water showers outside up the hill about 50m from the pool. You can change in the toilet (unisex and push button, with 10 minutes maximum before the door automatically opens). I'm told there used to be changing rooms, but these were vandalised so the council took them down. Shame!
Tidal differences
High tide the waves will definitely come over the edge of the pool, making for a choppy swimming experience. And one local told me in storms the waves can even crash against the blue spectator area some 2-3m above the pool.
At low tide this is a calm oasis. Great contrast.
Other practical points
There's a very attractive mini pool next door to the main pool. It looks quite deep if you're taking non-swimming toddlers, but great for bigger kids not yet confident enough to go in the big pool.
History and stories of the pool
The Bellambi Bluebottles are a group of (male only, I'm told) swimmers who get together once a month throughout the winter for competitive but fun swims. They even have their own website and they welcome new members. They seem to retire to the pub afterwards, though I'm not sure how much coffee or tea is drunk among them…
People I met here included:
Kay, who came to Australia from south London in 1965 and lived in Sydney all her life before moving down the coast 10 years ago. She drives past Towradgi Pool to come to Bellambi: 'Fewer people here,' she says 'less chat and less seaweed with nasty things that bite me'.
What's your story? Any memories of swimming here? Any stories to tell? Or did you just have swimming lessons in the cold of winter in the 1960s?
Whatever you have to say, however brief, I'd love to hear from you and will add any stories to this section of the site as and when I receive them.  Add your comment or story under 'Leave a Reply' below.
Links to other articles on this pool
The Illawarra Mercury featured Bellambi pool during its series on rock pools in 2014 and interviewed some of the pool's regular visitors.
Coffee, tea or milkshake after the swim?
There's really nothing anywhere near this pool, not even a little shop, so you'll need to go the extra mile…
Hevan Espresso
177 Princes Highway, Corrimal
Hevan Espresso reviewed by Fancy a Cuppa website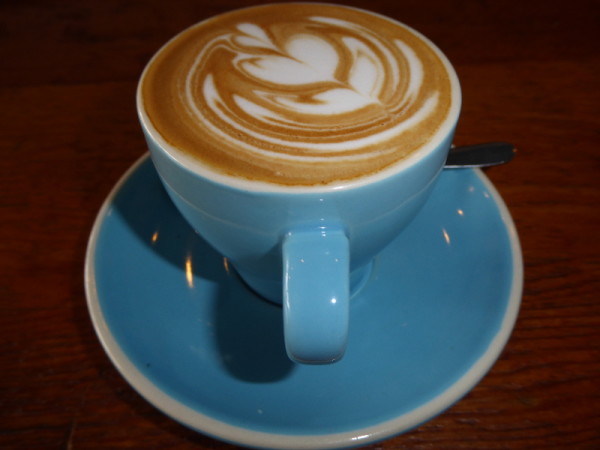 Open 6.30am – 2.30pm Mon-Fri
7.30am – 1.00pm Saturday
Sunday closed
These guys serve up the excellent Single Origin Roasters coffee, and they know what they're doing with it on the beautiful Marzocco machine. They also offer cold drip and various other ways of preparing the coffee, like aeropress and v60, but their basic flat white or cappuccino is worth the hike (or short drive) from the pool to experience.