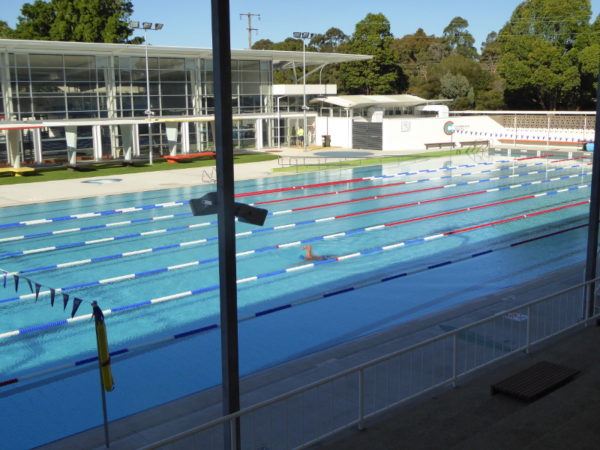 Auburn was named after a village in England that features in an 18th century poem.
My experience in the pool
The Auburn Swim Centre, whose official name is the Ruth Everuss Aquatic Centre, only reopened in April 2017 after major refurbishment. It was quiet here on a chilly May morning, but the sun was bright and the outdoor Olympic pool looked very inviting, especially with only one other swimmer doing laps when I arrived.
The old tiles mentioned and loved by my fellow swim blogger Therese when she visited here a few years ago have gone, as has the old diving board tower (which the lifeguard told me had been closed for some time anyway due to concrete cancer in its structure).
The former diving pool is now a water polo pitch (do they have pitches in water polo?), and it was covered presumably to keep the temperature up in those cold winter nights in Sydney. Come to think of it, I don't even know if water polo is a purely summer sport, so have no idea if this pool remains covered through the winter. One day, I must educate myself on water polo…
For lap swimming, the new Auburn pool is a delight, with that new trend now to salinate the water so there is less chlorine needed, and I'm sure the salt helps my stroke count for my 50m laps.
With bright sunshine low to the east, this east-west pool is best done with backstroke facing to the west. That way you also get the added pleasure of watching the trains trundle by on their way to nearby Lidcombe station, with the occasional express train shooting past the pool on a non-stop run through to somewhere like Central.
The new Auburn Pool is a little bit clinical when compared with the decor described and photographed by Therese, but look carefully and there are some nice touches here: I actually liked the modern depictions of aquatic creatures along with some traditional icons, making a nice connection to the area's past. The old diving board remains only in artwork around the tall floodlight base. But they have placed fascinating little information plaques along the walls of the shaded seating area on the changing room side of the pool. I almost walked by without looking but there are some great stories here, some of which I summarise below in the History section.
Getting there, getting in, getting changed
It's about a ten minute walk from Lidcombe train station to Auburn Aquatic Centre. If driving, the Church Street turning is a pretty small entrance off the main A6 axis through Sydney and I drove straight past at my first attempt. Ample parking near the pool, though.
Excellent access to the 50m pool with a long slow wheelchair ramp allowing great disabled access; there are shallow steps in and the usual vertical metal steps too.
Changing rooms are either next to the indoor pool or go the dedicated changing rooms by the outdoor pool, towards the deep end. Showers were a bit luke warm, but otherwise it all looked and felt fresh and clean.
Other practicalities
Pool open all year round.
Good disabled access.
1.1m in the shallow end and 1.8m in the deep, but with a ledge to stand on if you need a breather.
$6 for a one-off swim.
History and stories about this pool
Auburn Swim Centre opened in 1959, with lots of 1960s Olympic swimmers involved, including the woman whose name has now been given to the Centre. Ruth Everuss was an Olympic medallist in 1960 and then coached at Auburn pool until 2002.
The historical notices round the newly-revamped centre speak of the pool being frozen over one winter in the 1970s to allow for ice-skating. There was me ridiculing such a notion when I read that someone suggested it for their pool elsewhere in the state, but maybe it can work without damaging the tiling??
There's a nice sign about how synchronised swimming got going at Auburn swim centre in 1986, and then a lovely story about a blind swimmer whose guide dog would be allowed to pace up and down along the edge of the pool in time with his lap swimming owner. Fat chance of that these days!
And Auburn swim club obviously has a prestigious past, with lots of competing in local state champs and Olympic swimmers to boast of. Auburn has a real name in Australian swimming history, it seems
What's your story? Any memories of swimming here? Any stories to tell? Or did you just have swimming lessons in days gone by?
Whatever you have to say, however brief, I'd love to hear from you and will add any stories to this section of the site as and when I receive them.  Add your comment or story under 'Leave a Reply' below.
Links to other articles on this pool
Here is the link again to swimming blogger Therese's visit to Auburn swim centre before its recent refurb – check out the old tiling.
A local newspaper reported on the re-opening in 2017 of Auburn aquatic centre.
And in May 2017, the new measure aimed at encouraging Muslim women to swim even got TV coverage. — that happened only in the indoor pool, though.
Coffee, tea or milkshake after the swim?
Lidcombe has the nearest shops to Auburn pool, but Lidcombe at first sight seemed to be a good coffee desert. Until I found the flower shop, that is…
Mattaniah Flower Shop Café – 21 Joseph Street, Lidcombe, NSW 2141
Open: Daily 6.30am-10pm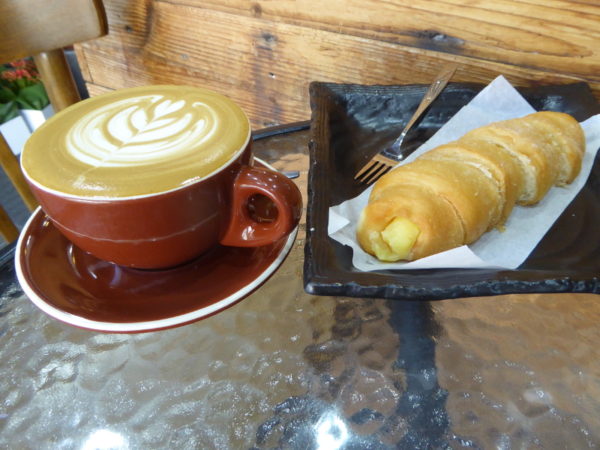 They use the rather good Bassett Espresso and make your coffee on a lovely Marzocco machine. This area is so oriental with lots of Korean, Vietnamese and Chinese food available and very average looking coffee on offer anywhere nearer to Lidcombe Station. This place was really good, though,  and it was a lucky find for my post swim coffee in Lidcombe. Sit among the flowers and watch the world go by, literally with the ethnic mixed bag that is in Lidcombe…