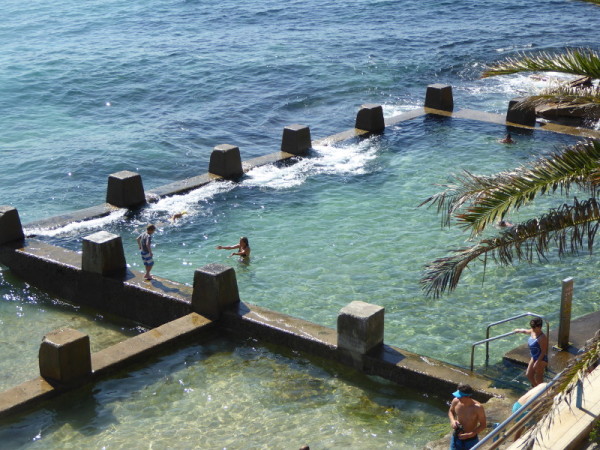 Long before the rock pool was built, Coogee Beach had an English-style pier, though it only lasted six years before a storm destroyed it.
My experience in the pool
There was bright sunshine over Coogee when I arrived mid-morning for my dip in this delightful pool.
It's only a short pool – about 17m probably, or maybe even less – but when the sun is blasting down and the sea is glittering all around, getting into a pool like this is one of life's pure pleasures.
I rather like the turrets around the edge of the pool. They actually line both the main pool and the kiddies' paddling pool next door.
It's tucked into the cliff face a bit like the rock pool at Bronte, but quite a lot shorter. It's also quite shallow really, though deep enough to do freestyle without scraping your hands on the floor of the pool.
Even three hours after high tide the waves were flowing over the pool edge, making for a fun swim, caught up in the swell or the spray if you timed your breath at the wrong (or right) moment. There was even quite a splash from the waves in the paddling pool, causing shrieks of delight – and one or two tears – from the toddlers playing in the next door area.
This pool was much busier than I expected for a midweek morning during school term. Admittedly, many of the people there were Mums with toddlers – or grandparents out with the small kids – but there was also a handful of people joining me for laps. It was fine for swimming, but I can imagine this pool must quickly fill up at weekends and on holidays.
Getting there, getting in, getting changed
I caught a bus from Central Station, but there are buses also from Circular Quay and Bondi Junction. Many routes drop you off right by the pool.
There's only a narrow – and slightly seaweedy green – set of steps down into the water.
On a busy day I can imagine it's hard to find a spot to leave your things poolside. I managed to find a small area between the top of the rocks and the level at which the waves were coming in to soak everything. But, again, on a busy weekend, could be tricky. Nearest shower is camouflaged in the rock face up on the path about 50m north of the pool. And nearest changing rooms are way further along the beach behind the Surf Life Savers building.
Other practical points
Tidal differences: Quite a big difference, since the waves were coming over the pool wall even at three hours after high tide. I haven't been here when the tide is fully in or during a storm but I can imagine the place gets quite lively.
History and stories of the pool
Built in 1947 in memory of a local Alderman.
Coogee Beach has been through a lot of changes in the last 100 years. They tried building a pier half way up the beach in 1928, but it had washed away by 1934. Before the Second World War, there apparently used to be floodlit surfing on Coogee Beach with up to 30,000 attending every night at weekends. But that was all before the pool was built.
Rips in the surf and a sandbank off the beach make Coogee the most dangerous beach in the country for spinal injuries, I gather. No wonder the pool gets busy!
It is reported also that the local Aussie Rules (AFL) team the Sydney Swans have been known to have recovery dips here after a match. Mind you, if they were all in this pool, there wouldn't be much room for anybody else…
What's your story? Any memories of swimming here? Any stories to tell? Or did you just have swimming lessons in days gone by?
Whatever you have to say, however brief, I'd love to hear from you and will add any stories to this section of the site as and when I receive them.  Add your comment or story under 'Leave a Reply' below.
Links to other articles on this pool
I rather liked this series by another travelling swim blogger, who came to Ross Jones Memorial Pool as recently as in October 2014 .
There are night time shots on this blogger's site, where Ross Jones Pool is one of a series.
Back in 2009 the Lazy Swimmer was here
And the Coogee Penguins Winter Swimming Club have their own website
Coffee, tea or milkshake after the swim?
Head straight back to the main road nearest to the pool (so if you go to the changing rooms, it means walking back towards the pool for this café)
Square Peg Café, Arden St near the junction with Carr St, Coogee
Open 6.00am daily. Closes around 3.00pm Monday – Friday; 4pm weekends (but also some evenings open).
Square Peg Café reviewed by Fancy a Cuppa website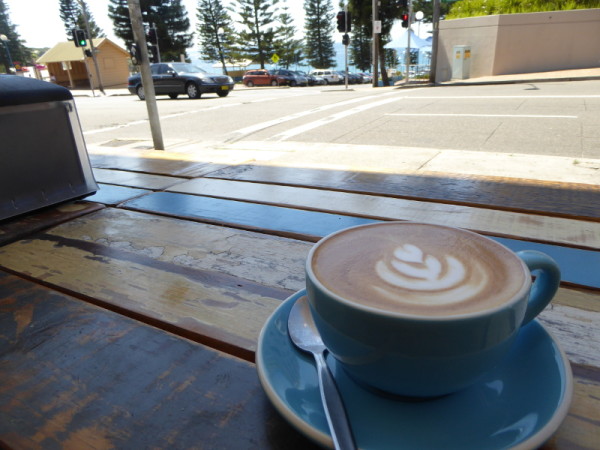 I love it when I come across an independent coffee shop like this, which is slightly away from the main bustle of Coogee's big shopping street, but is a real gem in terms of quality coffee and tea. I spied the excellent teas from Tippity and from Rabbit Hole Teas (my two favourite Sydney tea suppliers) on the shelves first. But then was introduced to The Little Marionette coffee (well, it was still coffee time after my dip) – it's a really good quality coffee; so good that I ordered a second. Great views also down to the water about 100m away.
.