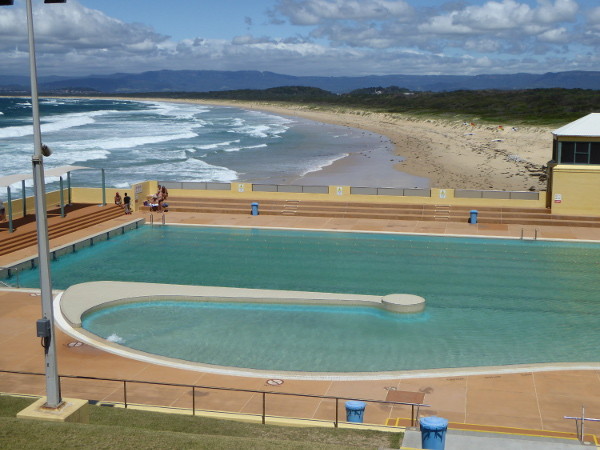 Famous now for its steel works, but back in 1770 Red Point near Port Kembla was Captain Cook's first sighting of the East Coast
My experience in the pool
My first swim here was on a bright but very breezy day in early February. The wind off the sea was so strong that as I swam eastwards it whipped up small waves which made breathing more difficult (though it also just made me improve my head lift each time I came up for air in freestyle).
This is a beautiful 50m pool, marked out with lanes (3 lanes open on the morning I came and lots of space for leisure swimmers or school kids' life saver training in the other half of the pool) and lovely tiles. The water is filtered and pumped every day so it's not officially a tidal pool, giving it the feel of a normal inland pool, though it's salt water straight from the ocean beyond those walls.
It's a fantastic spot for a swim, with views out along the beach at Port Kembla and, from the seaward end, views over the rocks and to the ocean beyond.
There's also a steep set of steps up one side of the pool, which are presumably there to give access to seating (on grass) to watch any competitions taking place here. Makes a great viewing spot to look out over the panorama of pool and coast.
Getting there, getting in, getting changed
The pool is at the northern end of Port Kembla beach. There's parking for about 50 cars nearby. But if you're in Port Kembla itself, it's about 1500 metres to the pool itself down Military Road.
Unlike most natural rock pools, this (free to enter) pool is patrolled by lifeguards and there are opening/closing times, so worth checking these before going specially (photo in the gallery here for 2014-15 times).
Once at the pool, you can take the vertical steps into the water at the shallow or deep end for lane swimming or join the leisure swimmers by entering via the paddling area which merges into the pool on its northern side.
Changing rooms are right next to the pool, with warm showers (though a 3-minutes limit on showers).
Tidal differences
No difference since this is not a tidal pool. Though, the day I was there, the surf beyond the sea wall was whipping up quite a spray, and I can imagine in a storm some waves may crash over into the pool. But since this is a pool pumped and filtered fresh every day, those are probably days when the pool would be closed.
Other practical points
There are three extra pools: a toddlers' pool at 0.3m depth; a paddling pool at 0.5m; and a slightly deeper kiddies' pool at 0.95m.
Lifeguards on watch.
Pool closed June to mid-September
History and stories of the pool
The rock pool here was built in 1937 (see Ross's story below) and on your way out, you might just see a fading brass plaque which marks the opening of the first pool here that year.
It's been through a number of redevelopments since, though, before the current, modern pool opened about 10 years ago.
Apparently after one renovation job a large crack appeared half way across the whole pool, forcing it to be closed for a lengthy period while it was repaired and rebuilt.
People I met here included:
Ross, who told me he was brought here in 1937 as a seven year old by his grandfather for the grand opening and has been swimming here ever since. As a country boy, this was a real treat. But later, even as a steel worker at the local works, he and his colleagues would come down with their sandwiches for a swim at lunchtime on hot days. Now, he's still coming though he says his lap times aren't what they used to be!
Peter and his wife Ingrid: Arrived in Australia from Germany (and Austria) in 1961. He now lives locally and loves his regular swims here and at Shellharbour's Beverley Whitfield pool.
What's your story? Any memories of swimming here? Any stories to tell? Or did you just have swimming lessons in the cold of winter in the 1960s?
Whatever you have to say, however brief, I'd love to hear from you and will add any stories to this section of the site as and when I receive them.  Add your comment or story under 'Leave a Reply' below.
Links to other articles on this pool
http://www.abc.net.au/local/stories/2010/10/28/3051130.htm (though this is about the old, now disused rock pool at the other end of Port Kembla beach)
Coffee, tea or milkshake after the swim?
There is a poolside café, where you can get a good milkshake and a decent coffee (though mine was a little bit too scorching hot to let the taste come through). There are also home-baked cookies, plus all the usual fast food selection.
If you really like your quality coffee, I say it's worth going the extra mile to:
For coffee: The Red Kitchen
Shop 1 Kembla Court, 100 Wentworth Street, Port Kembla
http://www.fancyacuppa.co.uk/reviews/2015/04/12/the-red-kitchen-cafe-in-port-kembla-nsw/
Closed Sunday/Monday
Otherwise open from 8.30am till 3pm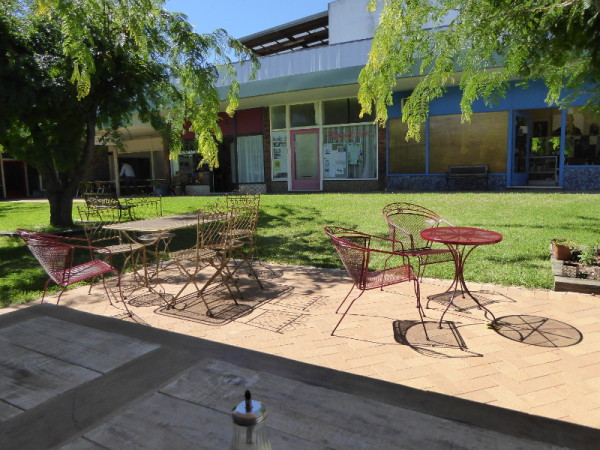 This is a great little café, where the daily baked muffins are to die for (fig or strawberry coconut on the day I called by); much needed – and deserved – after a tough swim workout. Coffee is very good, roasted by Danes.
There's seating inside but also a garden terrace in the courtyard shared with other interesting shops on Port Kembla's main street.