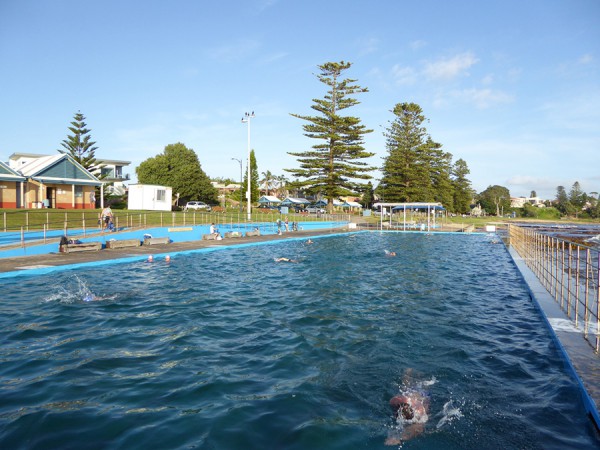 In 1905, Shellharbour was known as the 'sanatorium of the south'.
My experience in the pool
I love this pool.
It's a proper Olympic-size pool, so you can really work out with laps if you feel like it (and at the start of the morning, there are quite a few lap swimmers, and an etiquette of waiting your turn if the eight lanes are all in use).
But it's also got enough space not to feel full even if 60 people are in it on a hot Sunday afternoon.
I loved the friendly chatter among the early morning swimmers, some of whom have been coming here for nearly 50 years.
And I adore the views as you poke your head over the pool edge at the end of a lap, whether it's looking out over the rocks, where the waves come rippling in, or looking towards the town and the harbour.
Getting there, getting in, getting changed
If you're in the caravan park at Shellharbour, it's just a short stroll over the grass to get to the pool side. If you're coming by car, drive down the main village road to the coast and there are parking spaces just a few metres from the pool edge.
At the shallow end there are shallow steps to get you in the water gradually. At the deep end, there are vertical steps.
There are benches along the side and under cover next to the paddling pool for storing your things while you swim. Changing rooms are about 10 metres from the pool and they have warm showers, a real luxury on a winter's day.
Tidal differences
At high tide, there's a bit of a splash from the waves over the edge of the pool, but I hear in stormy weather it can be more dramatic.
At low tide, this is just a wonderful pool, with great views out to sea and along the rocks.
Other practical points
Olympic size pool, with blue painted floor and sides, with lane markers for lap swimmers.
There's a kiddies' paddling pool next door to the main pool, under shelter from sun or rain.
Lifeguards on watch during school summer holidays.
History and stories of the pool
There's been a pool on this site since the end of the 19th century. The 1895 version was a lot smaller and of course there was gender segregation in those days, with flags indicating men's and women's time slots. It was built on the site of blue stone quarries, which probably explains the flat rocks that lie on this stretch of coast between the harbour and the pool.
This pool is named after Australia's breaststroke gold medal winner at the 1972 Munich Olympics. Beverley Whitfield was a member of the Shellharbour Swimming Club and swam here as a young girl. The decision to honour her name came in 1994, after the pool was renovated, but sadly Beverley Whitfield died only two years later.
According to Wikipedia, she was quite small for a swimmer, but had legs with the power of a weightlifter – just think of her and be inspired next time you're doing a lap in breaststroke here.
People I met here included:
Gary, a guy who just retired and has started coming to the pool every day. He only began swimming a few years ago, though so is still full of youthful enthusiasm. Interesting man, too, though: Born in Holland and emigrated here in the 1960s.
The Shellharbour Dolphins: A lively bunch who get together once a month on a Sunday morning (1st of each month, and right through winter) for swim followed by breakfast. Too many of them to name but they welcome newcomers, so don't be shy…
What's your story? Any memories of swimming here? Any stories to tell? Or did you just have swimming lessons in the cold of winter in the 1960s?
Whatever you have to say, however brief, I'd love to hear from you and will add any stories to this section of the site as and when I receive them. Add your comment or story under 'Leave a Reply' below.
Links to other articles on this pool
The local newspaper the Illawarra Mercury featured one of the pool's swimmers in 2014
Swimming blogger Sally was at the pool in July 2014
Another local newspaper, the Kiama Independent, reported on some visitors to the pool back in 2013
Photo blogger Neil wrote about the pool in 2010 (great photos here)
Coffee, tea or milkshake after the swim?
Just behind the changing rooms above the pool is a fish and chip place, where they'll do you a decent milkshake or a cold can of something.
But for coffee or tea, it's worth going the extra mile back into the village
For coffee: 5th Avenue Café
19 Addison Street.
http://www.fancyacuppa.co.uk/reviews/2015/04/12/5th-avenue-coffee-shop-in-shellharbour-nsw/
Open Daily from 8am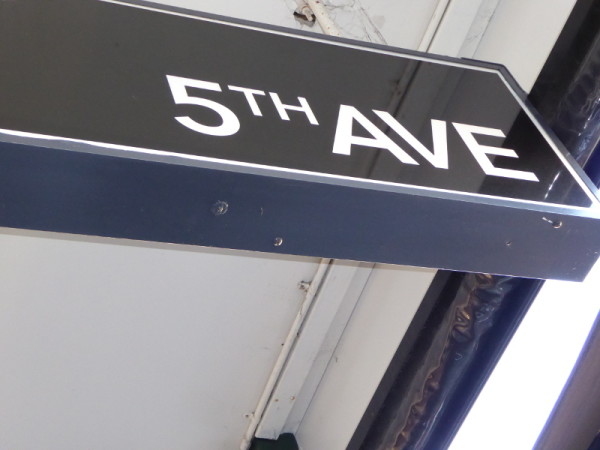 This is my favourite café in Shellharbour, with great coffee roasted up the road in Unanderra, a good display of cakes, including muffins or banana bread (and a very nice cinnamon bagel, which is great for breakfast), and above all a friendly, cheerful welcome from the staff, who make it feel like you're part of the village community.
There's seating inside but also a terrace out the front, where you can sit and look down to the coast, but still feel sheltered from rain or sun.
Actually since I wrote this review, a new coffee shop in Shellharbour opened up and the coffee there is the best in town I reckon, so try: Village Fix, 3/19 Addison Street (though just round the corner in Wentworth St) and open 7 days, usually 6am-4pm.
For tea: Green Poppy Café
2/8 Addison Street
http://www.fancyacuppa.co.uk/reviews/2015/04/12/green-poppy-cafe-shellharbour-nsw/
Open: – to 4pm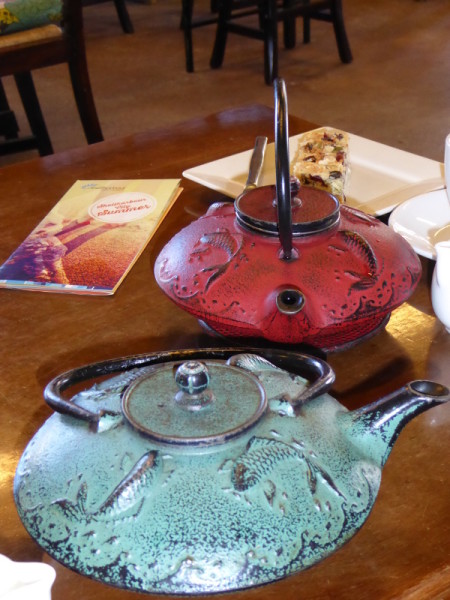 These guys are the real tea lovers in town. They have a good range of loose leaf teas from T2, including a Daintree Tea from northern Queensland. But they also get more specialist teas in from a local tea supplier with direct links to China – Wanling Tea House are based in Warilla, just next door to Shellharbour and do a great range of Chinese teas, from black to white via greens and oolongs.
There is also a good range of gluten-free cakes on offer here.