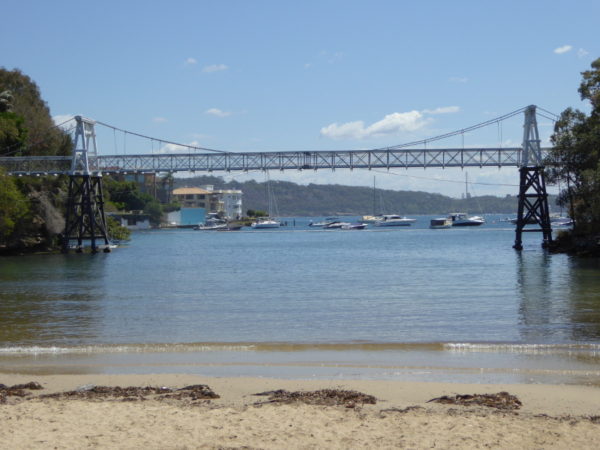 My experience in the pool
I did finally get into the water at Parsley Bay swimming enclosure, with its wonderful footbridge taking pedestrians across the bay high up over the baths, and its views of passing ferries to Manly and Watson Bay. It was a close-run thing, mind you, and even though two blokes were swimming right up against the shark net, a good 80m from the shore, I stayed pretty close to the shallows, not venturing further out than the footbridge.
The thing is when I came to Parsley Bay to do a reccie some time ago, there were not only the usual warnings of stingrays in the sand and the suggestion of the stingray shuffle to avoid getting a nasty whipping, but there was also an apology from the local council about the need for the shark net to get repaired.
Then in my pre-visit search of the Trove website, I discovered that gaping holes in the shark net at Parsley Bay have been a regular occurrence over decades, with countless reports of swimmers spotting not only gaps in the net but in one recent story a couple of years ago of a guy watching a bull shark glide past him in the bay as he swam. That shark can't have been hungry obviously, but the repeated stories made me nervous of swimming close to that net. I know what I'm like and any sight of big gaps in the net would have had me freezing in panic, so a splash in the shallows seemed quite enough for me at Parsley Bay, thank you very much.
It's a lovely spot, with tall gum trees lining the Reserve by the bay, birds screeching in the branches, shade over part of the grassy area, and that beautiful 1920s (?) bridge making Parsley Bay a real beauty spot on Sydney Harbour.
At low tide the sand lies exposed quite a way out and the water stays shallow a long way, so Parsley Bay Baths are best visited at high tide. If you know the bay well, you can probably jump into the water further out straight off the rocks, but for me it was a wade into the water, which was warm enough to feel like summer, even though we are still barely in mid-spring.
On a midweek morning the Reserve is occupied by big groups of mums and toddlers, though there were two young women sun bathing on the sand and occasionally venturing in to ankle height for a cool off of their feet. When I asked them if they knew whether the shark net was fixed now, they claimed not to know even that there was a shark net, but they go in anyway.
Well not this sharkophobic Pom. Parsley Bay must get busy at weekends in summer when locals no doubt crowd down here, but it felt like one of Sydney's hidden secrets for my visit. I just wish there hadn't been so many breaches of the net over the years…
Getting there, getting in, getting changed
There is a bus which drops you off not too far from Parsley Bay. It's then a winding walk down the hill to the park area by the water. There is a small car park tucked in under the cliff by the reserve, but I parked in the street nearby and walked on down.
There may be ways into the water at Parsley Bay off the rocks, so you can get straight into deeper water, but I just waded in off the sandy beach, which slopes slowly down towards the bridge over the bay.
At the time of my swim in October 2017, the toilets at Parsley Bay were being refurbished, so I had to make do with plastic portaloos to get changed. No showers available there, but hopefully the new toilets might have showers once they are re-opened.
Tidal differences
Best at high tide, but you can swim in Parsley Bay on any tide. You just may have to wade a lot further out to get into a depth where you can actually swim.
History and stories about the pool
As early as 1928, there were press clippings on the swimming in Parsley Bay. Back then, it was an oasis where 'maimed men may find again something of the life which was lost to them when war took its toll' in 'a swimming pool without a counterpart in Australia'. The earliest mention I could find to a shark net, though, dates from 1931, so the limbless ex-soldiers may have been swimming without that protection. I guess sharks could be a minor inconvenience after what they had experienced…
Back in March 1939, in those carefree times pre-war, The Methodist newspaper reported on the annual excursion of the Home Mission League, on which passengers would land at Parsley Bay 'for a basket tea' and 'an opportunity will be given to the younger folk to enjoy a swim in the shark-proof enclosure'.
The newspaper story that just keeps on and on reappearing on Parsley Bay baths is about the holes in the shark net letting in, well, sharks sometimes, seals other times, even a dead sheep according to one clipping, though that was admittedly a few decades ago, when sheep farming might have been a bit closer to Parsley Bay than it is now. A 1949 report raised the alarm over a 6-foot hole, putting 'thousands of bathers' at risk. I think numbers might have dropped a bit since then, but the gaps in the shark net seem to have continued, with reports as recently as 2016 of a bather actually seeing a bull shark swim past him in the pool…
In a classic tabloid manoeuvre – even in 1949 – The Sun sent one of its reporters into the enclosure at Parsley Bay to check and came back up confirming that 'one hole was more than six feet long and in parts four feet wide'. The Sun warned that locals were refusing to swim in the pool…
What's your story? Any memories of swimming here? Any stories to tell? Or did you just have swimming lessons in days gone by?
Whatever you have to say, however brief, I'd love to hear from you and will add any stories to this section of the site as and when I receive them.  Add your comment or story under 'Leave a Reply' below.
Links to other articles on this pool
The Mrs G Spot swim blogger has been to Parsley Bay swimming enclosure. She found a ramp and steps to get into the pool so I'll have to find that next time I go!
Swimming blogger Sally came to Parsley Bay in 2016.
Swimming Pool Stories blogger Therese came in 2015 and she too discovered the ramp at the 'deep end'…
The Hello Sydney Kids website includes Parsley Bay baths among its favourite swim spots in the Eastern Suburbs.
The Lazy Swimmer blogger swam in Parsley Bay back in 2009.
Parsley Bay Baths are not to be confused with the other Parsley Bay, where I believe there is no shark net, up on the Hawkesbury River. If you're up that way, Brooklyn Baths are probably your nearest protected swimming spot.
Coffee, tea or milkshake after the swim?
There are no shops or cafés anywhere near Parsley Bay swimming enclosure, but the kiosk will do you a decent enough coffee and it's a quirky little place, with great views.
The Little Piece of Paradise – Parsley Bay, NSW 2030
Open Daily 9am (ish) – 5pm (ish)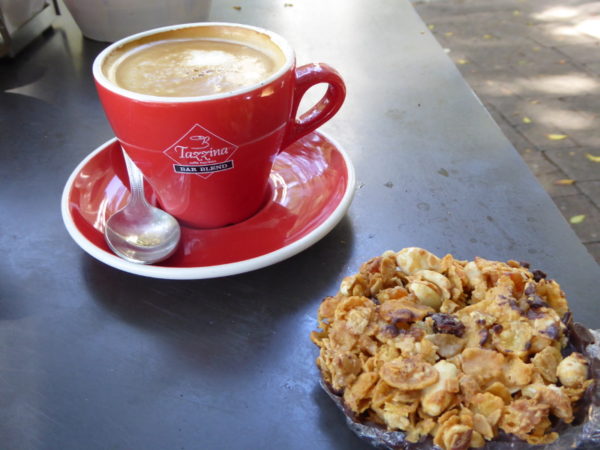 Thanks to Gianni for running the Little Piece of Paradise in the kiosk by the Reserve at Parsley Bay. Love his opening hours of 9am to 5ish daily. Oh and if you want a part time job, as of October 2017 he was looking for local help, so get in touch with him…
Tazzina coffee – strong Italian blend and home-made cookies. But best thing about this place is the homely feel and the big gums surrounding the park, along with views of the baths and the bridge.