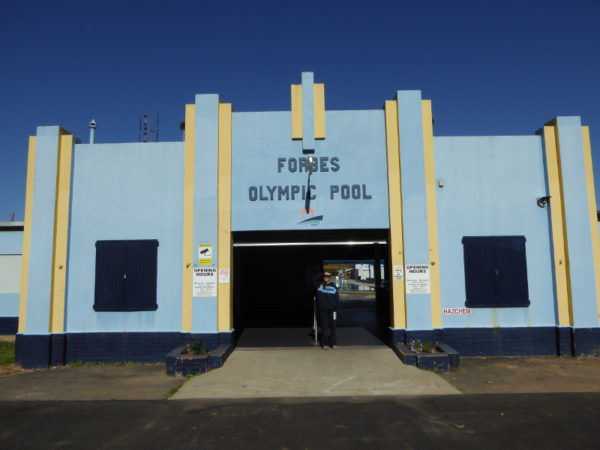 Forbes was named after a former Chief Justice of NSW
My experience in the pool
We didn't expect to get a swim at Forbes Olympic Pool. We just dropped by to take a photo of the fabulous Art Deco pool entrance and noticed the shutters were up. I thought pools in country NSW had a very limited season, with swimming only possible in heatwaves between November and February. But that's not the case with Forbes outdoor pool.
'Come back tomorrow', said the cheery manager. 'It's our opening day for the season'. Credit to them, this was 1 October, and when we arrived back at the pool around 8am, the air temperature had barely got above 7C, after starting the morning around freezing. Now, these are the sorts of temperatures that keep many pools in Victoria and South Australia closed for the day. But not Forbes!
When we got ourselves ready to take the plunge, lifeguard and manager Daniel revealed to us that we were his first swimming customers of the season, so he did us the honour of putting us in prime position on the pool's Facebook page as we stepped gingerly into the water.
I'd never got a welcome like this before on any of my pool visits (over 160 now since I began this quest in 2015). Daniel was newly in charge of the facilities in Forbes and was clearly pleased to have someone who would appreciate the efforts he had put in to make the pool look attractive for its opening day.
Unlike some pools closer to home, which take a good week to warm up after winter closing, Forbes Olympic Pool made us feel warmly welcome. The water temperature was a decent 22C, and although Daniel had concerns about the slightly higher than normal chlorine levels, the water felt beautiful and the setting is really a charm.
Forbes Outdoor Pool not only has that fantastic entrance, which must date from its original opening in 1937, but it has that essential thing for a good Australian outdoor swimming pool: gum trees in view to set the context and give you something pleasing to look at as you do your backstroke.
Daniel apologised for the lack of lane markers, but he had ordered new ones, having only taken on the pool a week earlier and been unhappy with the standard of the lane markers he inherited. What's also missing is a line of bunting at 10m from the end of the lap to give you fair warning during a backstroke length. But with the sun in my eyes heading away from the entrance, I swam backwards towards the shallow end and soon discovered that the gap in the two shading tarps was at about 10m from the lap's end.
Having swum in Parkes pool the previous day (no trees lining that pool, though it did have a diving board – absent from Forbes), I didn't feel the need to do my usual 20 laps, and with several stops to chat with both Daniel and my wife, my body never really warmed up in those 7C air temperatures.
What a lovely pool this is, though. I wish Daniel all the best in his new venture, and hope the locals of Forbes frequent the place as much as I would if I lived there.
On Daniel's suggestion, I followed up my laps in the 50m pool with a dip in the luxurious 29C kiddies pool. That temperature contrast had my toes tingling with pleasure, and it meant I opted not to follow up with a warm shower afterwards.
Getting there, getting in, getting changed
The position of Forbes Olympic Pool suggests it was intended for people to walk to rather than driving. Approaching from the front in a car, there is nowhere to park, so you have to drive right round the complex and park up along the side of the park. We didn't mind and rather liked the idea that everyone once upon a time would have walked (or maybe cycled) to Forbes Pool.
There is a hoist or a wheelchair ramp for disabled access. If not, there are nice shallow steps into the water near the changing sheds or, at the deep end, there are starting blocks, though signs up say these can only be used under supervision…
Perfectly adequate changing sheds, though we were told the women's sheds are even older than the men's! Warm water in the showers costs $1. But at only $4 entrance this would be fine if you needed warm water.
Other practicalities
Pool closed for winter and part of spring/autumn. Reopen its doors at start of October.
$4 entry
1.1m to 1.8m with a nice resting ledge at the deep end.
There is also a shallow paddling or wading pool, which was heated to 29C the day we showed up in Forbes.
History and stories about this pool
Days after Forbes Olympic Pool opened, in November 1937, a question was raised in Council on whether men would be allowed to wear trunks when 'indulging in swimming at the pool'. No, was the quick answer. I'd have had to switch to regulation swim wear or be barred, it seems in 1937.
In October 1938, the question was raised again, made all the more current because trunks were being worn in metropolitan centres and shops in town had begun to stock trunks for swimwear. The ban in Forbes was maintained in 1938, though trunks were allowed as long as they were worn with a singlet (and NOT a singlet rolled down for 'sun-baking')
On Christmas Day 1938, 1700 people came through the turnstiles. Would be quite a feat to get a tenth of that today, if the pool even opens on 25th December…
No talk of the pool through the war years, but The Forbes Advocate of 2 December 1949 has a story about a well-travelled local gent Mr Norman Moore, who on returning to Forbes from Paris said he had 'visited all the famous night clubs in the great French city and saw some marvellous sights, but he says he has never seen more beautiful girls with smarter figures than those he has seen in the Olympic swimming pool in Forbes.'
It was not always good news sadly: Floods in Forbes in 1950 took water to within two feet of the ceiling of the changing sheds, but the pool survived and by 1952, people were reflecting on 15 successful years…
The Forbes Advocate of 7 March 1952 said the idea of the pool had its origins in 'a number of drowning tragedies in which young lives were lost. 15 years on and there had been no more drownings in Forbes.
People we met at the pool
One lady had apparently beaten us to the pool on that opening morning, but she just bought her annual pass. We were the first swimmers of the 2017-18 season so all our conversations were with manager Daniel and the lifeguard, who very kindly showed us her favourite coffee shop in Forbes for our post swim coffee.
What's your story? Any memories of swimming here? 
Any stories to tell? Or did you just have swimming lessons in days gone by?
Whatever you have to say, however brief, I'd love to hear from you and will add any stories to this section of the site as and when I receive them.  Add your comment or story under 'Leave a Reply' below.
Links to other articles on this pool
I found no links to anyone else writing about Forbes Olympic Pool, though I know it's the kind of pool Therese of Swimming Pool Stories would love to visit.
Thankfully the Trove national archive website had lots of newspaper clippings to feast on about Forbes, so my summary of the best of those appears above under History.
Coffee, tea or milkshake after the swim?
It's only a five minute stroll to get into Forbes shopping area, and the best coffee shop seems to be just a few minutes further in the centre of town…
Pantry Café – 6-8 Templar Street, Forbes, NSW 2871
Open Daily: 7.30am-5pm Mon-Fri; 8am-1pm Sat;                          8.30am-12.30pm Sun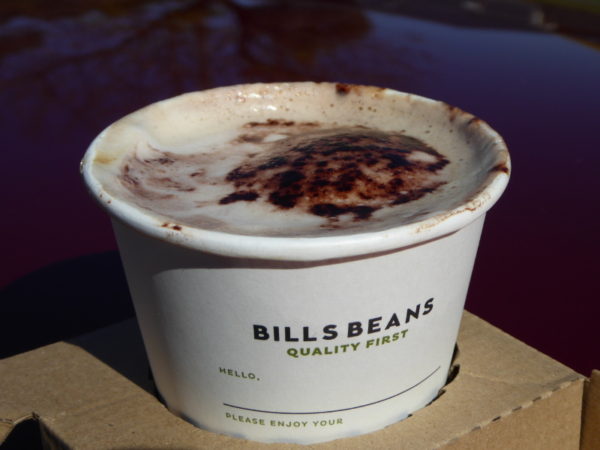 They use another country NSW roaster I hadn't come across before. Bills Beans roast out of Orange and it makes for another excellent smooth flat white. Congrats to them. There was a hint of eastern Europe in both the accents of the ladies baking and in the taste of the pastries they served up. Altogether a good end to a lovely visit to Forbes.