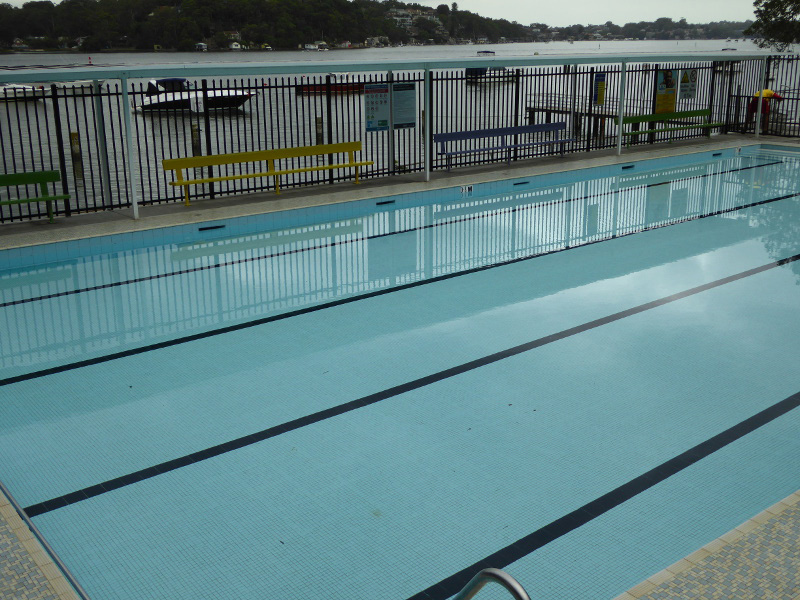 Como was named for its similarity to the city on Italy's lakes.
My experience in the pool
I hadn't planned a swim in Como Pool on this particular Friday in February, but the grey skies over Sydney put me off going into the water at the harbour baths I'd hoped to visit, and in any case sea water really needs blue skies to bring it out best in photographs, so I changed my plans and decided to do a drive around to check the location and facilities at the next tidal baths I plan to swim in.
This took me down to Como, that beautifully named suburb of Sydney down on the Georges River. I always have fond memories of the other Como, because it was looking over the lake there that I proposed to my wife Anita, and we went for a freezing celebratory swim after she agreed.
The setting is not quite as stunning here in Australia but the tidal baths and swimming pool you can see from the train we take regularly from Sutherland into the centre of Sydney always look tempting. I have never seen anyone swimming in the tidal baths, and the pool also rarely looks full, though it's blue is always an uplifting sight as the train trundles by.
Part of the reason the pool never looks full is because it has quite limited hours, being only open for the warmer 6 months of the year, and even then only from 1pm.
As luck would have it, I pitched up in Como at about five to one, and saw the lifeguard going through his prep work before opening the doors. I took a few pics and then decided I'd have a spontaneous swim for a few minutes before all the kids rush in after class.
You see, the thing about Como Pool is that it is officially a 'learner's pool' with a maximum depth of 0.9m, and it starts off at a paltry 0.7m. It is also only 20m long.
So seasoned swimmers are not often to be found pacing up and down Como Pool, but on a hot afternoon after school, the place is pretty popular.
I managed a few laps, using the shallows as a way of training myself in pulling through the water with bent arm, rather than the energy-wasting straight arm I often use. And since I had the pool to myself, I even tried a diagonal swim across the pool to increase the lap length. That didn't really help, mind.
Como Pool has a lovely setting, though. You can look down on the tidal baths below (and yes the lifeguard assured me people do swim there in the mornings so I may not be alone when I do finally take the plunge), and there are lovely views of the bushland bordering the Georges River as well as the yachts moored close by, not to mention the regular trains going by on that bridge just by the pool.
It's not a pool I'll be frequenting very frequently, that's for sure, but I can't help wondering if I'd have learnt to swim a good few years earlier than I eventually did, if my Sydney teachers had just given me a pair of goggles and taken me down to Como Pool, rather than chucking me into the murky waters of a northern suburbs harbour pool 50 years ago (but more on that when I review the now disused Garigal Park pool in the coming days).
So, thanks, Como. Your blue tiles cheered me up on a gloomy day, and as usual just getting in the water outside improved my mood no end, not to mention cooling me down as the humidity built up.
Getting there, getting in, getting changed
There is a train station at Como, though not all the trains that cross the Georges River railway bridge past the pool stop there. It is also a walk of nearly a mile from the station down to the pool. If driving, there is ample parking nearby.
There are shallow steps into the water at Como Pool so although it's not deep, it probably isn't very accessible for people with disabilities.
There's a shower by the pool and a toilet building up on the path heading through the pleasure grounds above the pool.
Other practical points
Free entry to Como Pool
But the pool at Como has limited opening hours. See the photo in the gallery for exact times and months of the year Como Pool is open. Don't try to come here in the morning, basically, in spite of the efforts of local parents (see the local press article in the links below).
Pool is 20m long and has maximum depth of 0.9m, with a shallow end at 0.7m.
History and stories of the pool
I haven't found any stories about Como Learner's Pool. If anybody has any, please get in touch…
People I met here
The pool was very quiet when I arrived at opening time, so the only person to talk to was the lifeguard, who assured me that people do swim in the tidal baths at Como as well, but I will return there on a sunnier day.
What's your story? Any memories of swimming here? Any stories to tell? Or did you just have swimming lessons in days gone by?
Whatever you have to say, however brief, I'd love to hear from you and will add any stories to this section of the site as and when I receive them.  Add your comment or story under 'Leave a Reply' below.
Links to other articles on this pool
The Ellas List blog covered Como Pool as part of this review of the Como Pleasure Grounds complex.
Nothing much has changed since this local newspaper article about parents campaigning for morning opening hours at Como Pool in 2014.
The only other blogger I have found who has written about Como Pool is swim blogger Sally, who was here in 2007 (and also chose the pool over the tidal baths, it seems!)
 Coffee, tea or milkshake after the swim?
There is coffee to be had right by the Tidal Baths and the learners' pool at Como. The Blackfish Café serve the delicious Wood Roaster coffee, and do a nice-looking loose leaf tea from the same supplier. By the way, if you want to make a day of it at the weekend, Blackfish do a High Tea from 3pm, which I will definitely come back to try one day. They only open their kitchen at 9am, but will serve a coffee from 8.15 (and if you're really lucky) they may even do you a post swim coffee before that…
Great views over the water while you sip your coffee.
But it's really worth going the extra mile (and to the other side of the railway tracks) for the best coffee in Como…
Revolution at Como – 72 Wolger Street, Como, NSW 2226
Open Tuesday – Friday 7am – 4pm; Saturday – Sunday 7am – 2pm
Closed Mondays
Revolution @ Como reviewed by Fancy a Cuppa website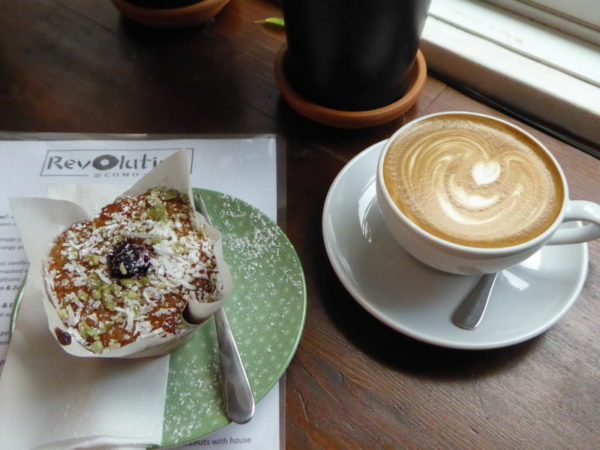 Revolution @ Como serves up the best coffee in Como by a long shot. It is also one of the best coffee shops in Sydney, in my view. The barista here reckons this is the only Sydney coffee shop serving the excellent Art of Espresso coffee from Young NSW. Honestly, if the coffee in Young is that good, I'm going to have to check out their aquatic centre soon just to have an excuse for another post swim coffee this good.
But Revolution is also a stylish place, with an old 1950s sofa and record turntable at the back, a lovely urban garden feel next to that, and then the more conventional coffee shop and terrace at the front. It's a really friendly neighbourhood coffee shop, and I'm very envious of the residents of Como who live nearby.