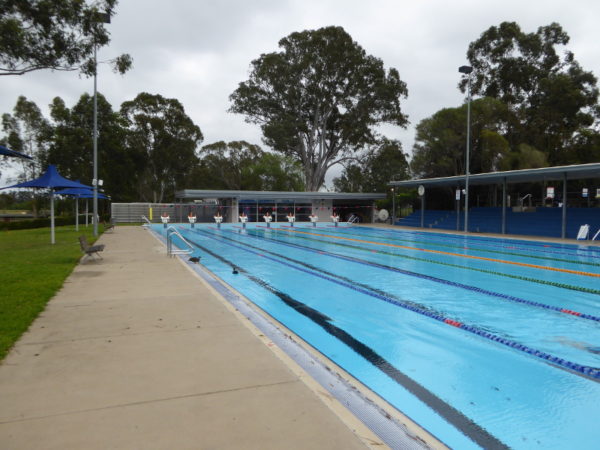 Camden was named after a former Minister for War (!) rather than the north London suburb.
My experience in the pool
Camden War Memorial Pool was a great replacement for a planned trip to Figure of Eight pool in the Royal National Park. Figure of Eight needs good weather and the right tide. Camden Pool would have been fine in the pouring rain, but the steady downpour we had as we left home had passed over by the time we reached Camden an hour or so's drive away.
The ducks in Camden Pool probably like the wet weather, mind you. They were still strutting their stuff up lane one as we turned up to disturb their morning. That's not to say we were the only swimmers on this cool, grey November morning, but there was no problem having a lane each for the whole of our twenty laps, and there was room too for those ducks, though they decided a rest by the floodlights was a better option with four humans in their pool…
I liked the ducks, but I also loved the fact that from the poolside you can watch the gentle rhythms of the cricket matches happening on the ovals by the pool. And there were gum trees to gaze up at whichever way you swam in backstroke, and that's always the mark of a good Australian outdoor pool in my view. The lorikeets swooping over the pool also made for an entertaining few laps on my back.
So all in all, Camden War Memorial Pool ticked pretty well all of my boxes – as did the pretty town of Camden itself, I might add. This was my first time in this old livestock centre on the Old Hume Highway, so I was conscious that I must have driven through Camden as a small child, when the pool itself was only three years old.
The Aquatic Centre in Camden is on different levels, with the teaching Pool on the same floor as the entrance – we didn't go in, but the lifeguard told us the water in that pool was 29C. Down some steps (or a disabled ramp if you prefer) to the main 50m Olympic Pool, with its Camden Swimming Club building at the deep end and a big majestic gum behind that.
There are nice murals by the pool, painted I suspect when the centre was refurbished in 2011, and some plaques to commemorate when the War Memorial Pool was actually opened in 1964.
Getting there, getting in, getting changed
There are trains and buses to Camden, though we drove this time. Parking was tricky on a busy Saturday morning, though by the time we left after lunch, there was bags of room to park.
There are nice shallow and wide steps into the Olympic Pool at the shallow end. No disabled ramp, but presumably with the wheelchair ramp down to this level, the must be a hoist or some other means to facilitate disabled access at Camden?
Warm showers in the spacious changing rooms. Nice on a cool morning, but I'd have liked a cold option for hot days.
Other practicalities
Pool closed for winter.
Entrance fee $4.35 in 2017-18.
Olympic Pool depth from 1.3m to 1.8m, with a standing ledge at the deep end. The bunting over the two ends to help backstroke swimmers judge distance felt as if they were placed a little less than the usual 10m from the end of the laps, maybe even at 5m at one end.
History and stories about this pool
For history of Camden Pool, you won't find better than this article from a local Camden website. It includes a video of the new pool after refurbishment, but I liked it best for its early memories of swimming in Camden.
The article starts with mention of Albert Baker who first promoted the idea of a pool in Camden in 1946. As a lover of old arcades that are still well-used today, I was delighted to find the Baker Arcade in Camden, with information on the man himself and his campaign to promote swimming in the town. Don't miss that gem after your swim.
There is a plaque by the Olympic Pool with some detail on the opening day of Camden Pool in 1964. Nice mentions for synchronised swimming, the brass band, and of course Albert Baker, who became the swim club's president once it set up on the pool premises. (see photo in the gallery above)
What's your story? Any memories of swimming here? 
Any stories to tell? Or did you just have swimming lessons in days gone by?
Whatever you have to say, however brief, I'd love to hear from you and will add any stories to this section of the site as and when I receive them.  Add your comment or story under 'Leave a Reply' below.
Links to other articles on this pool
I haven't found any other bloggers writing about Camden Pool. The local newspaper had a piece on lighting issues not too long ago. But that's the only link I could find.
Coffee, tea or milkshake after the swim?
We got lucky in our search for a post swim coffee in Camden. We didn't find the coffee shop we were looking for, but were directed by a local resident towards a relatively new place, which surely serves the best coffee in Camden…
Jally's – 10 Larkin Place, Camden, NSW 2570
Open Daily: 5.30am-5pm Mon-Fri; 7am-3pm Sat-Sun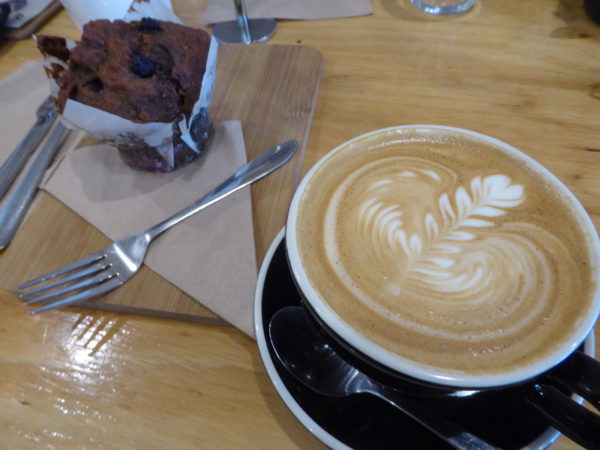 Jallys reviewed by the FancyaCuppa website.
Certainly the best coffee I have drunk in quite a few weeks. We found this coffee shop in Camden quite by chance, after asking a local for directions to a different coffee shop! Jally's has no branding or name board anywhere, and is behind the main street's buildings, but find it for fantastic coffee and cake.
They use a new coffee roaster in Wollongong called Abstract Coffee (I think that's the name…), and they let me have the single origin, even though I like a flat white. And wow, this was one of the smoothest coffees I have drunk in a while. Lovely fresh, moist muffin to go with it too. This coffee shop is less than a year old, but already doing a roaring trade. Perfect for your post swim coffee.