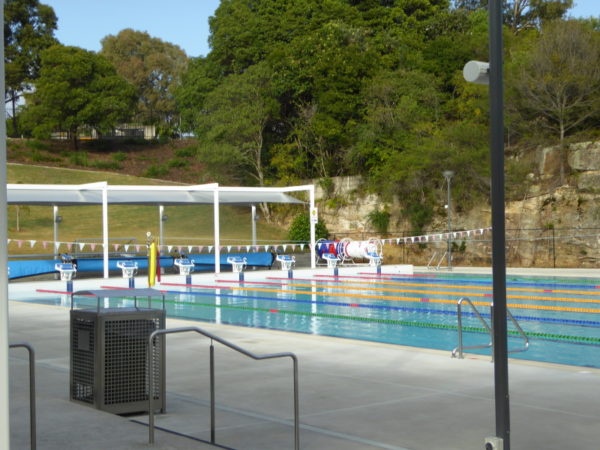 Bexley was named after the south-east London borough of the same name
My experience in the pool
I like the new aquatic centre in Bexley, not far from Hurstville in Sydney's south. It's named after the local councillor who apparently pushed for a super, modern swimming complex to be built, but very sadly, the lady at reception told me, Angelo Anestis passed away just a few months before the new centre opened its doors again in January 2017.
It's still possible to see the sign out the front warning swimmers that the old Bexley Pool would be closing in May 2014 so the locals had to go almost three years without a swim spot, as another of the regular swimming bloggers recounted in her post, to which I link in the history section below.
I hope they all agree now that it was worth the wait. The new Bexley Aquatic Centre is superb. The outside of the building is nothing to write home about, a rather characterless modern block, but inside it is fantastic, with all the mod cons a swimming pool needs these days to keep going financially (gym, health centre, indoor pool, and excellent facilities).
I never went to the old Bexley Pool so can't compare, of course, but the Olympic pool here is wonderful. I loved the slightly briney water (the lifeguard told me it was a deliberate choice to cut down on the amount of chlorine needed), and I'm not sure how but I had the impression that there were little bubbles to swim through for much of my lap, and no other swimmers near me to cause them.
Certainly my laps at Bexley were taking about 3 strokes less than normal for me, so either I have gained tremendously in fitness and stroke style (unlikely) or there was something in the nature of the pool itself which made swimming easier.
I imagine the new 50m pool is placed over the space where the old Bexley Pool once was. It sits in a hollow between grassy slopes on one side and hewn rock on the other. For backstroke, the views are much better if you swim northwards (always a good idea in Australia anyway because of the sun), unless you like the look of 21st century architecture.
In addition to the usual bunting marking 10m or so from the end of your lap, which saves me from banging my head most of the time, there were handy lines of string across the pool at about 20m from each end too, which I quite liked as a progress marker on those backstroke laps, but I guess may just be there for times when they divide the pool into sections for whatever reason.
It was a cool morning in mid-May, with the forecast suggesting rain was not far away. Good reasons for most Aussies – and I'm guessing the increasingly big Chinese community around these parts – not to swim outside. So it was quiet enough for me to have a lane to myself for my whole 20 laps, though nice also to have the company of swimmers of a similar pace to me in both the neighbouring lanes.
Getting there, getting in, getting changed
It's about a 15 minute walk to Bexley Aquatic Centre from Bexley North train station, and the bus M41 from Hurstville goes right by the complex. There's also ample parking in the swimming centre car park.
I took the vertical steps built into the pool wall at the shallow end, but did notice some easier entrances nearer the door from the indoor pool. I just forgot to check for disabled access, but I'm pretty sure in a 21st century pool of this type, it must be pretty decent for those with disabilities.
Lovely showers both outside and in. With showers for all by the indoor pool as well as individual cubicles in the respective gender changing rooms.
Other practicalities
Depth goes from a very precise 1.37m in the shallow end to 2m in the deep, but there is a small ledge to stand on in case you need a breather up there.
Water briney, which felt nicer than chlorine.
Kids play area with a fun looking bucket which presumably tips a bucketload of water over the youngsters on hot days, which must be great.
$8 entrance so pricier than many but if that's what it takes to have good public facilities, I'm OK with that, especially as most pools in the UK of this standard would be costing twice as much.
Open all year round.
History and stories about this pool
With all the work done on Bexley Pool in recent years, it's been hard to find much in the way of history of this aquatic centre. The best I found about the build-up to the most recent renovations was on the Sally swimming blog, so follow the link for an insight into the discussions while the work was going on and before it even began.
What's your story? Any memories of swimming here? Any stories to tell? Or did you just have swimming lessons in days gone by?
Whatever you have to say, however brief, I'd love to hear from you and will add any stories to this section of the site as and when I receive them.  Add your comment or story under 'Leave a Reply' below.
Links to other articles on this pool
With Bexley having to live without its pool for so many years, a lot of the usual bloggers and swimming writes have not been able to cover the place, so the only link I found – apart from Sally's post above – was a local newspaper piece published just after the new pool opened in January 2017.
Coffee, tea or milkshake after the swim?
It's a good 15 minute walk to get a good post swim coffee after your visit to Bexley Aquatic Centre. Head due north almost as far as Bexley North train station to find…
Shaw St Espresso – 15 Shaw Street, Bexley North, NSW 2207
Open: Mon-Fri 6am-2.30pm; Sat 7am-2pm – closed Sundays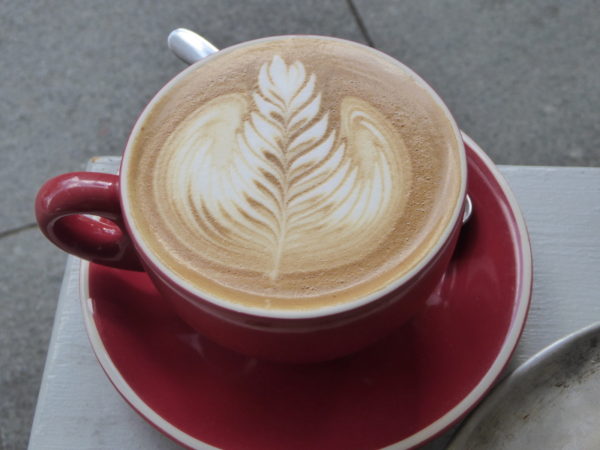 Shaw St Espresso reviewed on the FancyaCuppa website
They serve up the excellent Reformatory Caffeine Lab on their espresso machine. Roasted in Surry Hills in the centre of Sydney, this coffee makes for a delightfully smooth brew. There's a real buzz to this coffee shop and clearly the locals all come here for their caffeine intake, but I was happy to perch on a couple of stools out the front and watch the world go by.