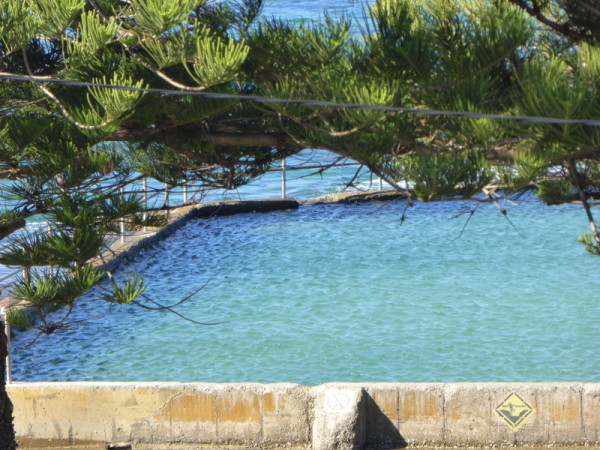 Wombarra is an Aboriginal word for 'black duck'
My experience in the rock pool
I didn't see any black ducks in this secluded pool at the northern end of the Illawarra. Unless those thin black sea birds sitting on the pool railings pretending to be Batman are indeed black ducks, but I don't think so.
It actually took me three goes to get into this pool.
The first time I came, it was just on high tide and the 5m walk across the rocks to gain access to the pool looked pretty hazardous as a torrent of water flew through that gap and around to the northern end of the pool. You probably can do it, but I didn't fancy taking my chances.
The second time I drove nearby, it was a cold grey day and they were working on the sea defences. There was a narrow way through the work area to get to the pool, but I just didn't relish the thought of running the gauntlet of those diggers and workmen with my goose-pimpled pale  skin in pretty skimpy speedos!
So I came back on the relatively warm Queen's Birthday weekend – and made sure it was nearer low than high tide.
Water temperature was actually pretty good, and the pool is a delight to swim in. It's quite shallow at the southern end, but still possible to do a stroke comfortably.
Once they've finished the work on that sea wall, I'll happily come back here because its secluded position is actually quite delightful, under the watchful gaze of four big Norfolk pines, with no houses or roads within sight.
The only people I nodded an acknowledgement to were the rock fishermen returning to their cars as dusk fell, and I was returning to the changing rooms for my post swim shower.
Getting there, getting in, getting changed
Look out for the blue sign pointing towards Toilets as you drive along the Lawrence Hargrave Drive between Coledale and Scarborough. Only room for about four vehicles at the pool level, but one level higher, by the school, there is another parking area. There is a train station at Wombarra and buses from Wollongong to Stanwell Park go past.
There's only one way in to this pool, and that's the slipway type of slope, with a handrail at the shallow end. No steps or stairs anywhere else.
Slightly bizarre to have such a big space for changing but no shower inside them. There are toilets and benches to leave your things on, but the showers are on the outside wall. This may be because the toilets/changing rooms are supposed to close every day at dusk and it's not clear what time they reopen, so having showers on the outside wall means you can always freshen up after your swim.
Tidal differences
The tide makes a massive difference here. It's hard to get to the pool during a strong high tide given the fast flowing water around the pool, though if you know a safer route in, it would be fine, just a little turbulent with waves crashing over the sides.
At low tide, the pool sits quietly on the rocks and looks picture perfect.
Other practical points
There is a very small paddling pool next to the main Pool.
While the works continue on the sea defence walls, there is parking for only three or four vehicles here. That's never been a problem on my three visits, but if it is busy, there's also parking back up the hill just in front of the local school.
History and stories of the pool
Pools date back to the 1930s, though I have not seen any detailed history or heard any stories, especially as I have never seen anyone here on any of my visits!
People I met here include:
Three visits here and I have seen nobody else in the pool. The links below show that others do come here, but maybe I need to return in midsummer to meet more than the local rock fishermen…
What's your story? Any memories of swimming here? Any stories to tell? Or did you just have swimming lessons in the cold of winter in the 1960s?
Whatever you have to say, however brief, I'd love to hear from you and will add any stories to this section of the site as and when I receive them.  Add your comment or story under 'Leave a Reply' below.
Links to other articles on this pool
The Illawarra Mercury came to Wombarra Rock Pool as part of its 2014 series – interviewed various visitors .
The pool was back in the Illawarra Mercury (and the Sydney Morning Herald) with a new story days after I'd visited for my swim.
Swimming blogger Sally came here in 2007.
The Catch up with a Mate blogger visited briefly in 2012.
Coffee, tea or milkshake after the swim?
There is nothing for a cuppa in Wombarra itself. So you may have to go back south and try the new places in Coledale, or even back to Austinmer.
A couple of kilometres north there is
Scarborough Hotel
This is a fantastic spot for views. I'm just not a great fan of either their coffee or tea provider (both big firms and not as good as some of the more local suppliers they could have gone to). They do have a fine display of cakes, though, so if views and cake are your priority, it's a good choice.